Description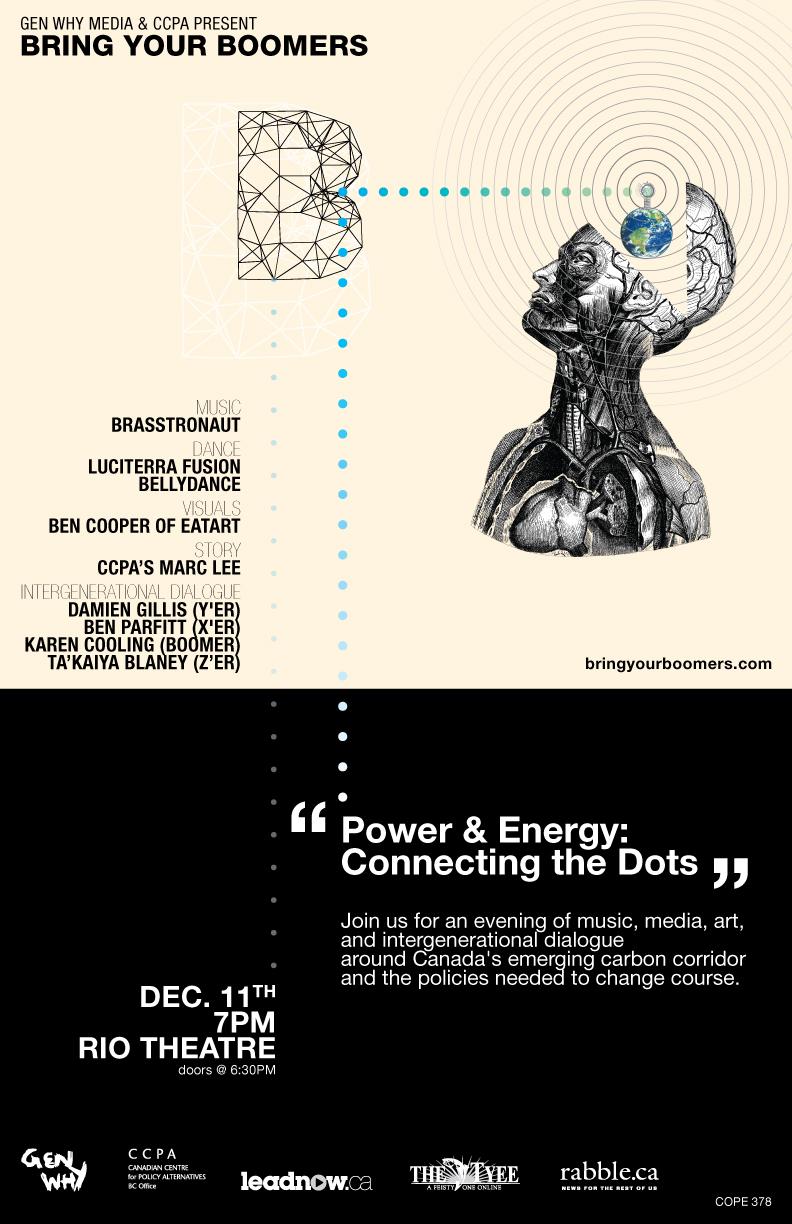 BRING YOUR BOOMERS # 3: Power and Energy - Connecting the Dots
Disclaimer: we warmly welcome people of all ages!!
DATE: December 11th, 2012 | 7pm (doors at 6:30)
VENUE: The Rio Theatre - 1660 East Broadway (and Commercial Drive)
RSVP (on Facebook): http://ow.ly/eTFL1
EVENT DETAILS

As part of Gen Why Media's ongoing intergenerational dialogue series, Bring Your Boomers combines intelligent conversation with music, film, visual art, storytelling and dance to provide a culturally-driven entry point to discuss social transformation.

In collaboration with the Canadian Centre for Policy Alternatives and Leadnow.ca, "Power and Energy: Connecting the Dots" explores BC's emerging carbon corridor and the provincial policies needed to change course towards a green economy, just
society and a healthy new era.
OPENING PERFORMANCE: Luciterra Fusion Belly Dance quartet
STORYTELLING: CCPA's senior economist, Marc Lee, tells the utopian story of BC's energy policy 50 years in the future, alongside visuals b

y Ben Z Cooper and Vincent van Haaff.
DIALOGUE:On-stage "living room conversations" with participants from different generations, reflecting on BC's industrial web of fracking, pipelines, LNG plants, tankers, mines, dams and the Tar Sands. Speakers include: Damien Gillis (Y'er), Ben Parfitt (X'er), Karen Cooling (boomer) and ten-year-old activist, Ta'Kaiya Blaney.
CLOSING PERFORMANCE: Brasstronaut

Come enjoy a theatre full of exceptional individuals, entertainment, education.... and prizes!
SPONSORS:
Special thanks to our platinum sponsor:
CCPA, Leadnow.ca, The Tyee, Common Sense Canadian, BCGEU
MEDIA SPONSORS:
The Tyee - http://thetyee.ca/
rabble.ca - http://rabble.ca/
SCENE IN THE DARK - http://www.sceneinthedark.com/
THe Source - http://thelasource.com/en/
Megaphone Magazine - http://megaphonemagazine.com/
Ricepaper - http://ricepapermagazine.ca/
Tyee article and video from our last two events here: http://thetyee.ca/News/2012/01/23/Intergenerational-Problem-Solving/