Description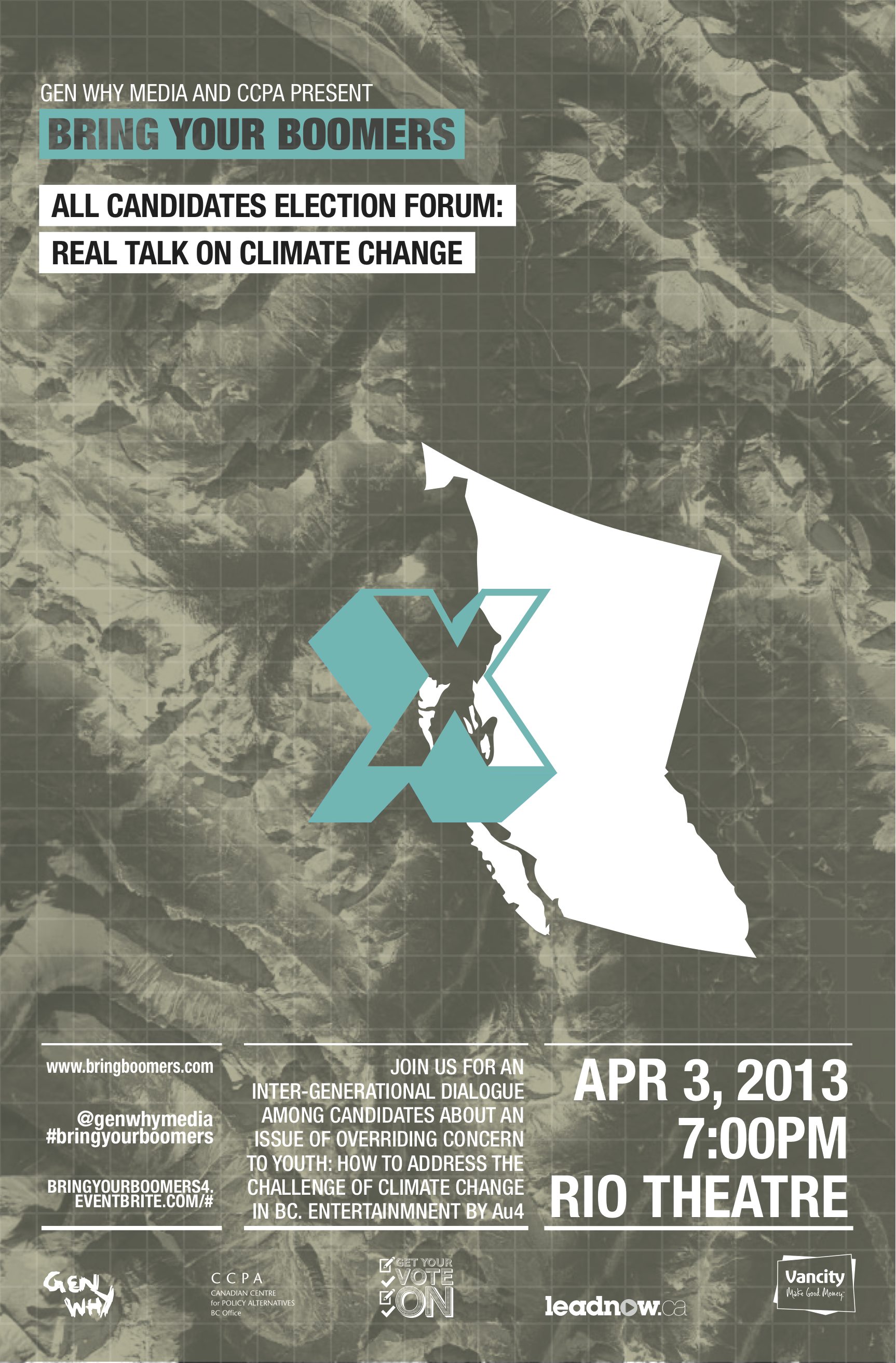 DATE: April 3rd, 2013 | 7pm (doors at 6:30) - 9:30
VENUE: The Rio Theatre - 1660 East Broadway (and Commercial Drive)
SPONSORS: Vancity, CCPA, Leadnow.ca, Get Your Vote On, Rabble.ca
INFO: http://bringyourboomers.com/

Facebook RSVP: http://goo.gl/vSbVo Video from our last event here: http://goo.gl/1sZuS

As part of Gen Why Media's ongoing inter-generational dialogue series, we are hosting a very special Bring Your Boomers focused on the 2013 BC Provincial Election.

Bring Your Boomers Election Forum: Real Talk on Climate Change will bring together young voters with political candidates for a frank conversation about an issue of overriding concern to young people: namely, how to address the challenge of climate change in BC.

Bring Your Boomers events go beyond traditional panels or debates by presenting an engaging mix of intelligent conversation, media, storytelling and music to provide a culturally-driven entry point to discuss social transformation.

The format of the events will include:

- Performance by Au4: http://music.cbc.ca/#/artists/Au4

- Remarks from CCPA's Marc Lee about about the state of climate change legislation in BC.

- An on-stage intergenerational dialogue with candidates David Eby (NDP), Jane Sterk (Green Party), Gabby Kalaw (Liberals), Bob Simpson (Independent), Duane Nickull (BC Conservatives) and 3 young voters: Caleb Behn (from documentary Fractured Land), Andrea Curtis (from Transformation Projects) and Sam Harrison (from Kids for Climate Action) - in discussion about how to improve climate change legislation in BC.

- Q&A and audience discussion

- Closing performance by Au4