Description
Our Signature Shave and Grooming workshop will give you the confidence to perform the lost art of wet shaving and traditional haircutting, the fastest growing segments in men's grooming.
Join the BBA experts as they demonstrate and coach attendees through classic English hot towel wet shave techniques and a traditional men's haircut without the use of clipper guards.
Signature Shave and Grooming workshop topics include:
History of Shaving, Consultation, Health and Safety, Hot Towel application, Shaving Oil Benefits, Shave Cream Application, Shaving Brush application, 14 Razor Stroke Shave, Upstroke Techniques, Reverse Backhand Position, Cold Towel application, Post Shave care, Proper Tool Set up, History of Modern Men's Hair Styles, Varied Hair Textures, Facial and Head growth patterns, Proper standing posture for Scissor and Razor cutting, Scissor over comb techniques, Graduate and Tapering with Scissors and Razors, Classic & Modern Taper and Neck Razor Shaping.
Course Duration and Format:
9:30am - 10:00am - Registration & Introduction
10:00am - 10:30am - Theory of Modern Men's shaving & Cutting Techniques
10:30am - 1:00pm - Demonstration models on Shaving & Cutting
1:00pm - 1:30pm - Lunch Break
1:30pm - 4:00pm - Hands on practical with guidance from Educator
1:30pm - 4:00pm - Hands on practical with guidance from Educator
4:00pm - 4:30pm - Theory and practical session recap
The BBA Signature Shave and Grooming Hands on workshop is limited to 10 students. Big shot out to our partners: Barbicide, BBA Men's Grooming Brand, Feather Razors, Wahl Professional Canada, Denman and PivotPoint.
Registration at 9:30am for all Attendees.
For *Hands on participants, please bring the following:
Scissors, Water Spray bottle, Clippers, Trimmers, Straight razor with blades and guards, Cutting Cape, Clips, Brushes, Hair Dryer & Neck Brush.
*Hands on attendees are required to bring a male model with at least 4 weeks hair growth and 1 day facial hair for arrival at 1:30 pm.
Mannequin Heads can be purchased for a very special price of $50 at the class.
This is "limited attendee" workshop. Registration is non-refundable or transferable and subject to change and / or cancellation.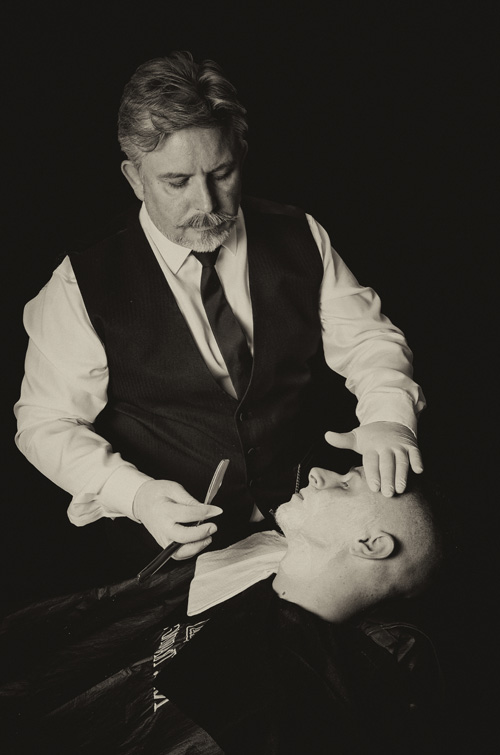 Meet our Master Barber Facilitator...

Gary Machin - BBA Education Director / Chairman Barber Council UK

Gary has been a working barber for 30 plus years. His career started at the age of 13 as a Saturday lad in the family barbering business, established 1967 as a third generation barber.

Once fully qualified after working his way to becoming assistant manager he opened his own shop in 1991 and took on a staff of his own.

His business has grown into a successful group of 6 barber shops, with 27 staff. In 1993, he developed a teaching program with evening courses at a local college which has had run for 9 years. During that time, he gained his teaching & assessing qualifications.

He was then invited by Habia to sit on the standards review board to give advice on setting up the 1st barbering NVQ qualifications.

He is currently one of the top educators for the Habia Skill Team on the level 4 Male grooming qualification which takes him around the UK & Ireland. He recently has showcased his traditional barbering / shaving skills and judged the final UEA Best Barber held at the BeautyWorld Middle East in Dubai.

He was elected the1st Barber Council Chairman and has held this position since 2014. Gary looks forward to sharing his thoughts, experience and advice for the good of our industry.