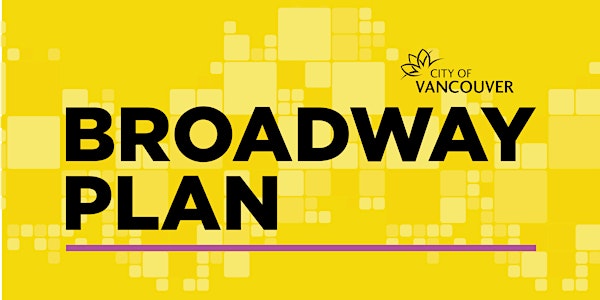 Broadway Plan Renter Roundtable - Kitsilano
Join the City of Vancouver for our Broadway Plan Renter Roundtable sessions, focusing on rental housing.
About this event
Broadway Plan
In March 2019, the City of Vancouver launched multi-phase planning process to create a comprehensive Broadway Plan to integrate opportunities for new housing, jobs and amenities around the new Broadway Subway. The plan will guide future growth, change and public benefits within the Broadway Plan study area.
Emerging Directions
This phase of engagement focuses on the Broadway Plan Emerging Directions. The emerging directions are shaped by the community values we heard through Phase 1 engagement and the Broadway Plan Guiding Principles endorsed by Council, as well as city-wide objectives from other plans and strategies. Following this phase of engagement, public and stakeholder feedback will help inform refinements to the emerging directions, as well as the draft Broadway Plan that will be developed over the coming months.
Join us at our Renter Roundtables
The Broadway Plan study area is an important rental area in the city. 59% of households who live in Broadway are renters and 25% of the existing city-wide purpose-built rental stock is located in these neighbourhoods.
Given this context, these virtual Renter Roundtable sessions will focus on rental housing in relation to the Broadway Plan. This session will focus on Kitsilano; however, all interested members of the public are encouraged to attend and the event is not limited to residents of Kitsilano. Topics will include creation of new rental housing, protecting existing secure rental housing, renter protections, and mitigating displacement impacts.
If you are a renter or are interested in renter issues please register to attend one of the roundtables!
More information and other ways to get involved
For more details on the Broadway Plan and information on how to get involved, visit shapeyourcity.ca/broadway-plan.
Resources for renters
The City's Renter Office provides a first point of contact for renters to find the information they need, support to understand and pursue their rights as renters and referrals to community organizations that provide services such as legal representation for tenancy issues.
Contact the renter office by:
Email: renteroffice@vancouver.ca
Phone: 604-673-8291
To learn more about your rights and responsibilities as a renter, "Renting It Right" is a free online course by the Tenant Resource & Advisory Centre (TRAC) and the Justice Education Society. Access the course here: rentingitright.ca.
--------------------
Eventbrite