Description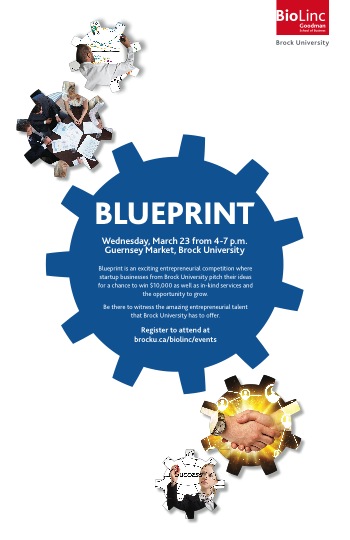 Join us on March 23 from 4:00-7:00pm for the #BrockBlueprint Finals at Brock University! Blueprint is an annual business plan and pitch competition hosted by the Goodman School of Business BioLinc designed to help kick-start the business ventures of young entrepreneurs.
Blueprint will begin at 4:00pm with pitches from Brock student entrepreneurs and recent alumni followed by a networking reception where the winners will be announced! A cash prize of $10,000 will be awarded plus in-kind services to the top teams.The networking reception will also feature the young entrepreneurs that have successfully completed BioLinc's Kick-Starting Entrepreneurship program. This is a great opportunity to support Brock's young entrepreneurs and network with high-potential youth start-ups.
Everyone is welcome to attend but registration is required to attend.
Parking will be available in Lot D and the event will take place in the Guernsey Market in the Schmon Tower at Brock University.
Light refreshments will be served at the networking reception.
Date: March 23, 2016
Time: 4:00-7:00pm
Location: Guernsey Market, Brock University