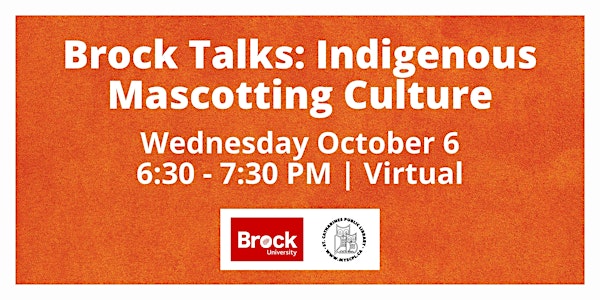 Brock Talks: Indigenous Mascotting Culture
A virtual talk given by Dr. Jason Black on the topic of Indigenous mascotting in North American sports.
About this event
*Please note this event was previously scheduled for September, and has been rescheduled for October 6th*
Truth, reconciliation, and respect have become vital twenty-first century watchwords in the re/centering of Indigenous Peoples' narratives and lifeways, both in Canada and in the United States. Much of the recognition of colonial pasts and the promises of decolonial futures take root in the material realm -- issues of land, resources, legal and administrative apparatuses, sovereignty policy, and body politics. But, what of the symbols and cultural representations that both precede and underwrite material colonization and its unraveling? Dr. Jason Black examines the importance of such symbols and representations to/for Indigenous Peoples by way of the mascot controversy in North America. With special attention paid to the Edmonton CFL team and McGill University cases, along with recent American mascot cases, this talk contemplates the colonial roots and decolonial possibilities tied to ending Indigenous mascotting as a cultural practice.
The September Brock Talk is being given by Dr. Jason Black, Fulbright Research Chair in Transnational Studies at Brock University, and has been co-organized by the Humanities Research Institute and The Centre for Canadian Studies.