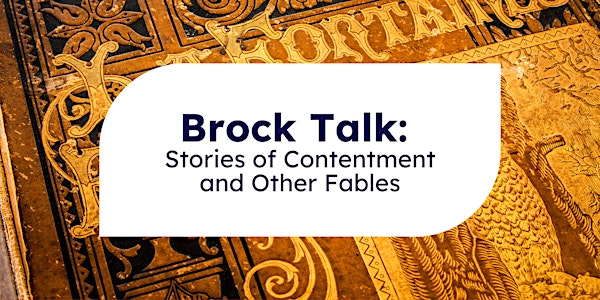 Brock Talks: Stories of Contentment and other Fables
Join us for November's Brock Talk seminar with Amanda Burk, speaking on her recent large-scale drawing series.
When and where
Location
St. Catharines Public Library - Central 54 Church Street St. Catharines, ON L2R 7K2 Canada
About this event
By using animals as a vehicle for storytelling, fables have always provided us with a safe distance to consider our own character traits and shortcomings. Both entertaining and sobering, fables, as allegories, are intended to impart values and often critique political and social realities in a distanced and digestible way. In her Brock Talk, visual artist Amanda Burk will discuss her interest in this layered and indirect approach to creating meaning and critiquing our contemporary moment. She will focus in particular on her recent large-scale drawing series, Stories of Contentment and Other Fables, which uses animal imagery to explore our aggressive impulses, particularly feelings of restlessness, in a time where the world feels particularly unsettled. Amanda will also reflect on how her interest in drawing has fueled her research and curatorial projects.
Amanda Burk is an artist and Associate Professor in the Department of Visual Arts. Her studio practice is centered in drawing and her research interests and curatorial work focus on studio-based pedagogy and contemporary Canadian drawing. Her artwork has been exhibited both nationally and internationally, and can be found in the Thunder Bay Art Gallery and the City of Toronto collection. Amanda is a research associate of the NSCAD Drawing Lab and has been collaborating on the study "The Effects of Language and Schema on Drawing Performance."
This event has been co-organized by the Humanities Research Institute and The Centre for Canadian Studies.
Location: Mills Room, Central Library (54 Church St.)