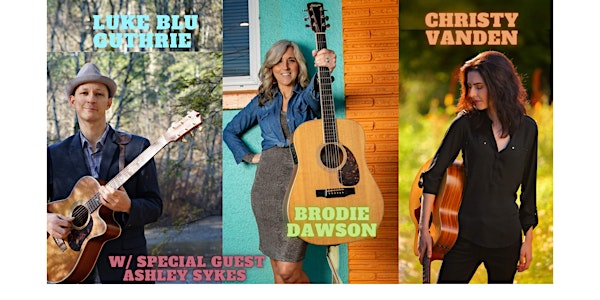 Brodie Dawson, Luke Blu Guthrie, Christy Vanden & Ashley Sykes @ Innisfree
Come enjoy this surprising and special 'One-off' summer concert at Innisfree Farm!
When and where
Location
Innisfree Farms 3636 Trent Road Courtenay, BC V9N 9R4 Canada
About this event
GATES OPEN @ 3PM - COME EARLY TO ORDER A TEA & TREAT FROM THE INNISFREE CAFE! (open until 4pm)
It's been a while since these incredible musicians have played together on the same stage! This one-off show will be history in the making and we couldn't be more excited to witness them join forces!
*RAIN OR SHINE EVENT!
(No limit to tickets sold, so we may run out of chairs.. Might be a good idea to bring one if you can) Thank you!
~~~~~~~~~~~~~~~~~~~~~~~~~~~~~~~~~~~~~~~~~~~~~~~~~~~~~
Named 'Vocalist of the Year' at the Vancouver Island Music Awards and nominated for 'Best Live Act' for 2 years consecutively, Brodie Lee Dawson is a force to be reckoned with.
It's her voice that jumps out at you…as soon as she sings her first note you're hooked. It's rich and riveting, pure and powerful, and full of soul. You'll find yourself in whether or not you wanted to be - and you might as well not look back, and just hold on for the ride..
Brodie recorded her 3rd album at the infamous OmniSound Studios in Nashville. The album was produced by Patrick Davis who is a Musician and Singer-Songwriter himself, and has written songs for Jimmy Buffett, Lady Antebellum, toured with Hootie & the Blowfish, Vince Gill, co-written and performed with Jewel, Guy Clark and many others, Tim Lauer as band leader & on keys (Executive Music Producer for the TV show 'Nashville' seasons 5 & 6, and currently song producer on David E. Kelley's Big Sky on ABC), Bryan Sutton on guitar and mandolin (toured with Dixie Chicks, Jerry Douglas, Bela Fleck), Fred Eltringham (ACM drummer of the year and Sheryl Crow's drummer), Tony Lucido (ACM bass player of the year, played with Ingrid Michaelson, Blake Shelton and currently on tour with Ann Wilson of Heart), Justin Schipper on pedal steel (played with Chris Stapleton, Kris Kristofferson, Billy Gibbons), Kris Donegan on electric guitar (played with Mary Gauthier, Kim Richey, Shania Twain), and Kristen Rogers on background vocals (bgv's for Jake Wesley Rogers, toured with Hozier, bgv's for Rival Sons, Lori McKenna, Kid Rock).
Four singles have been released from this album so far! Hear the crowd favorite single I'M MOVIN' ON currently in rotation on SiriusXM Radio CBC-Country! And find WILL I EVER, SKIP A BEAT & PAYCHECK wherever you stream your music.
Brodie calls her style a mix of 'soulful bluesy folk' with a gospel funk, a twist of pop and a twang of old-school country. True to all those genres she sings of life, love, searching and finding your way. And finding her way, she has… She's been turning heads and creating a buzz wherever she goes, leaving her audiences spellbound, full-hearted and smilin'.
Find and follow her everywhere @ https://linktr.ee/brodieleedawson
~~~~~~~~~~~~~~~~~~~~~~~~~~~~~~~~~~~~~~~~~~~~~~~~~~~~~
At a time when many musicians struggle to find an authentic representation of self in their music, the charismatic Luke Blu Guthrie is a beacon of originality. Deeply soulful, and passionately committed to creating and sharing his music, Luke Blu has devoted much of his life to his craft. Often armed with only an acoustic guitar, Guthrie has been an integral part of the Vancouver Island music scene for two decades. He is widely respected for his versatility and skill as songwriter, vocalist and guitar player.
Born of humble beginnings in a rural setting, much of Guthrie's music is reflective of his childhood experiences living a simple lifestyle while surrounded by a colourful and eclectic cast of characters. These experiences, combined with an unquenchable thirst to understand the mechanics and soul of music, have helped to shape and guide his personal and musical journey. The result is a body of contemplative, original music that bends and blurs the boundaries between multiple genres. Guthrie's music is a clever and potent fusion of folk, funk, dark country and rock n roll. It is representative of a lifetime of thoughtful listening and his uncanny ability to select elements from each genre then combine them to create a refreshingly innovative, yet timeless style that engages the sensitivity and sentiment of a broad range of listeners.
Luke Blu's lyrical wanderings show a profound and raw understanding of the human condition. Whether he is exploring the dark underbelly of human nature, taking a light hearted look at the frivolity of flirtation, or contemplating the joy, mystery, and confusion of love and loss, Guthrie's stories are poetic and poignant. With a firm belief in the importance of human connection, he successfully manages to provide a compelling, cathartic experience for his listeners, giving them an opportunity for greater insight into themselves, providing comfort, escape, and a chance for greater empathy.
A naturally charismatic and dynamic performer, Guthrie will be charming audiences for years with his electrifying playing and smooth vocals.
~~~~~~~~~~~~~~~~~~~~~~~~~~~~~~~~~~~~~~~~~~~~~~~~~~~~
Christy Vanden was born to travelling musician parents in the interior of British Columbia and grew up home schooled, moving from place to place. Her family made yearly winter road trips from Canada to Baja California Sur, Mexico in their Volkswagen van, where she learned to play on her tiny orange classical guitar given to her by her mother Leslie. From age seven onward, she was mentored by her talented father Dave, who inspired her to play the guitar in the first place. Between Christy's mother and her sister Amanda, she learned how to sing, and picked up harmonies by listening in on her parent's band rehearsals.
During high school years, Christy kept her music private, recorded GarageBand tracks non-stop for an entire year, and upon graduation, developed herself into a busy college student! Focusing on Liberal Studies and archaeology, she went to Greece on a study abroad trip and an excavation, and became a library assistant at North Island College Library...
One day while testing out guitars at Long & McQuade in Courtenay (where Christy later became a popular female guitar teacher), Christy met Brodie Dawson, the 2014 VIMA Vocalist of the Year. Liking Christy's style, Brodie offered to showcase her in her band as guitarist for the summer of 2014 - they played their second show at the 2014 Sunfest Country Music Festival on the main stage in Duncan, British Columbia where there was a showing of 40 000 people over the weekend!
During 2015, Brodie had Christy join her on a recording of Brodie's song "All This Time", which was nominated in the 2015 Vancouver Island Music Awards for Roots/Blues Recording of the Year. Later, the two formed a powerful touring trio with the talented veteran singer/songwriter/guitarist Tracy Riley of Yellowknife. As She Could Be Trouble, the trio toured B.C and Alberta at over 70 venues between early 2015 to the end of 2016, resulting in a live release CD titled Nineteen Hours. The title of the CD was the number of hours it took for the trio to record 10 tracks between two days! She Could Be Trouble was nominated at the 2016 BCCMA Awards for Group of the Year and the Ray McAuley Horizon Award, as well as were accepted into the first round of Juno Nominations for 2017.
Christy spent the next year in Vancouver teaching and touring as lead guitarist and backup singer with Canadian Idol contestant Karen Lee Batten, who headlined Williams Lake Stampede and the BCCMA Artist Showcase tent at the Cloverdale Rodeo.
Now a solo artist at 28, Christy feels she is finding her place in music and is continually improving her art and deepening her songwriting. Her solo instrumental album, "Unexpected Road", will be released independently in 2022...stay tuned!
https://cevanden.wixsite.com/cvmusic
~~~~~~~~~~~~~~~~~~~~~~~~~~~~~~~~~~~~~~~~~~~~~~~~~~~
Born and raised in the southeastern States, Ashley Sykes is a singer/songwriter who currently lives on beautiful Vancouver Island. She brings her southern gospel roots from the state of Georgia and blends them with the west coast themes of her current life on the Strait of Georgia. She is often described as peaceful and she writes songs that soothe the soul.
In the Spring of 2018, she released her first studio album, Dissonance, which she produced with Corwin Fox of Hidden Well Studios in Cumberland, BC. She loves collaborating with other artists and when she's not taking the lead, she's happy to add her harmonies, strings, and rhythms to support her many talented friends.
Ashley's three favourite words are connection, collaboration, and nurture. She is a mother of four and her mothering heart extends to her community. She grew up in the land of big front porches, and still has a "come sit on my front porch" kind of heart.
Find and Follow her @ https://ashleysykes1.bandcamp.com/
~~~~~~~~~~~~~~~~~~~~~~~~~~~~~~~~~~~~~~~~~~~~~~~~~~~~
INNISFREE FARM - $5 from every ticket will go to supporting our favourite local farm in Royston!
The name Innisfree is in a short poem by Yeats describing his dream of a peaceful place in Nature while he is stuck in the city. William Butler Yeats (1865-1939), an Irish poet, dramatist and prose writer, one of the greatest English-language poets of the 20th century received the Nobel Prize for Literature in 1923.
The Lake Isle of Innisfree
I will arise and go now, and go to Innisfree,
And a small cabin build there of clay and wattles made:
Nine bean-rows will I have there, a hive for the honeybee,
And live alone in the bee-loud glade.
And I shall have some peace there, for peace comes dropping slow,
Dropping from the veils of morning to where the cricket sings;
There midnight's all a glimmer, and noon a purple glow,
And evening full of the linnet's wings.
I will arise and go now, for always night and day
I hear lake water lapping with low sounds by the shore;
While I stand on the roadway, or on the pavements grey,
I hear it in the deep heart's core.