Description
BROOKLIN VS
Calling all Superheroes, Super Kids, Friends and Families
The Optimist Club of Brooklin is hosting Brooklin VS in Grass Park, a fundraiser for SickKids hospital.
Saturday, August 24th, 2019
10 a.m. - 2 p.m.
Grass Park, Brooklin

Brooklin VS will support local families thru The Patient Amenities Fund , which is a source of assistance for families who have limited financial resources and whose child is being cared for by SickKids. The Fund reimburses families for expenses that are not covered or only partially covered by public health insurance and community resources. These include travel, food, accommodation, drugs, and medical equipment. Together, we will help our regions families to the best of our ability.
ADVANCE TICKETS for a Super Hero Fun wristband*
$15 per Child plus processing fees *includes a cape*
no charge for adults
The Super Hero Fun wristband will give kids the opportunity to bounce in a jumping castle, enjoy cotton candy, learn Superhero moves, make crafts, play games, meet Superheroes and other special guests.
Local businesses and community partners will also there to provide free entertainment, activities, games and treats for children enjoy other surprises. Everyone is welcomed to wear superhero costume.
Supervision of children/youth at this event is the sole responsibility of parents/guardians and caregivers; childcare will not be provided. Caregivers must remain present.
You are welcome to take photos of yourself and your family (there will be plenty of great opportunities for capturing memories so please remember your camera).
Disclaimer: Registrants and attendees of BROOKLIN VS will be assumed to have provided permission for photos containing your image/likeness to be used for publicity or general information purposes including publication on the Brooklin Optimist website or Facebook page (which may be seen by the general public unless otherwise stated) as well as for other digital and non-digital promotional materials for the Optimist Club of Brooklin and Canadian Children's Optimist Foundation their programs and events. The Optimist Club of Brooklin will not seek any further permission nor provide any notification before using such photos.
Thank you for using your Super Powers to Support this Super Event in support of SickKids.
Limited tickets may be available the day of the event which will not include a cape, however advanced ticket sales are strongly encouraged.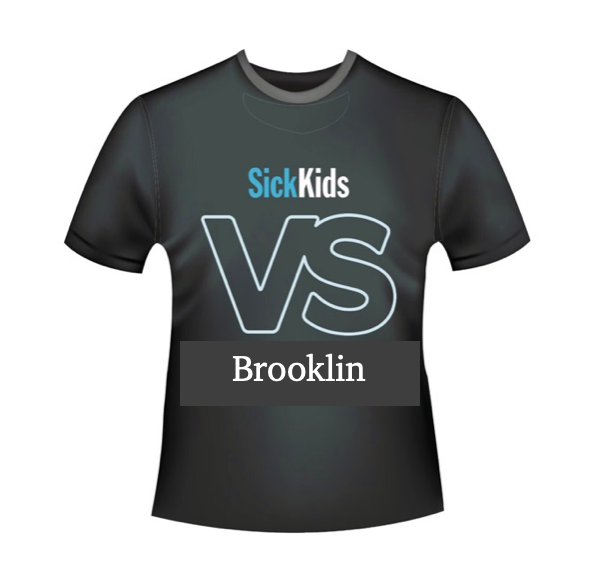 *some sizes have sold out and will not be available for the event. Order will be placed and shirts will arrive next week post event
Brooklin VS is rain or shine event. Rain location is TBA