Description
As pastors and elders we are called to and expected to care for those under our care. We take this seriously and do this as best we can but often this comes at a price. The person whose care often suffers the most because of our labors is us. We justify our overwork and downplay the subtle realities of arrogance and fear that lie beneath it. What if we weren't made to be everything for everyone? What if we embraced our limits and led out of rest instead of leading restlessly?
This conference is a time for the pastors and elders of the Blue Ridge Presbytery to come together, be ministered to, and share together the successes and struggles they are facing in fulfilling the calling God has given them.
Schedule:
11:15 Arrival & Check-In at the Holy Cross office (116 N. Central Ave. Staunton)
12:00 p.m. Lunch (provided) at The Depot Grill in Staunton
*Please ensure you have ordered via the Wufoo form. Soda is included (beer & wine are available for purchase).

1:30 Main Session and Q&A

3:00 Breakouts
5:30 Dinner at Shenandoah Pizza for any who want to attend
MAIN SESSION: Karoshi (Japanese for "Death by Overworking")
Luke Thomas
BREAKOUT 1: Energy Management: Stewarding Creativity & Productivity
Luke Thomas
BREAKOUT 2: Self-Care Through Soul Care
Bo Waldo
Our Speakers:
Luke Thomas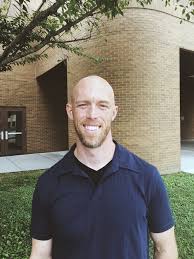 Luke is currently the Lead Pastor of Legacy Church in Knoxville, TN. Evangelized on the university campus as a senior pre-medical student (B.A. Biochemistry), Luke went on to become a campus pastor and church planter in Texas, Florida, and Tennessee for the next 20 years. Still resolved to reach the campus and plant churches, Luke trains church planters with the Acts29 Network and deploys new campus works with Campus Outreach. After experiencing and recuperating from a devastating burn-out himself in 2011, Luke has written and coached other ministry leaders on leadership self-care and has spoken at many various regional conferences and clinics with a passion to mobilize healthy leaders. Luke's greatest accomplishment has been his marriage to Paula for 18 years along with his three kids.
Bo Waldo
Bo Waldo grew up in Roanoke, VA, as a prodigal son of Westminster and Christ the King Presbyterian churches. After graduating and commissioning from Virginia Tech and the Army ROTC program in 2012, he attended Reformed Theological Seminary in Charlotte, NC in the pursuit of Army Chaplaincy. He graduated in 2016 with a Masters in Divinity and Masters in Christian Counseling, then he and his wife, Kathryn, moved to Charlottesville, VA for a two-year residency program, serving as Pastoral Resident for Spiritual Formation at Trinity Presbyterian Church. Having been ordained in the PCA in January, 2017, he was approved as an Army Reserve Chaplain, and assigned to the 450th Civil Affairs Airborne Battalion in Riverdale Park, MD, where he now serves. At the end of his pastoral residency, he and Kathryn intend to go Active Duty with the Army Chaplaincy, wherever that might take them.