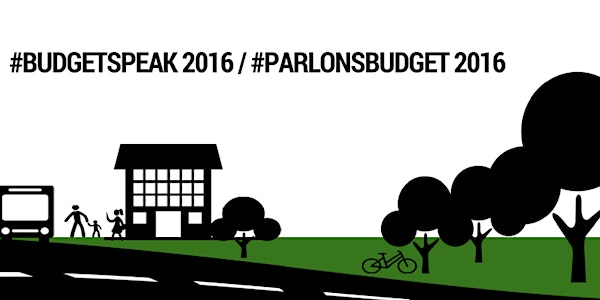 BudgetSpeak 2016 | ParlonsBudget 2016
When and where
Location
City Hall, Jean Pigott Place 110 Laurier Ave. West Ottawa, ON K1P1J1 Canada
Description
You are invited to BudgetSpeak, a consultation focused on moving resident-identified priorities forward.
In preparation for both the 2015 and 2016 City of Ottawa Budgets, Councillors representing several urban wards (Wards 12, 13, 14, 15 & 17) co-hosted a series of consultations with residents to get a better sense of their priorities - and the funding options - for the municipal budget. The hundreds of residents who participated in these sessions consistently ranked transit affordability, provision of social services and safe mobility for all modes of travel as their top priorities.
With these priorities identified, this year's consultation will focus on the "how" instead of the "what". It will consist of short plenary presentations on all three issues, roundtable discussions and advice from residents to their councillors on what specific initiatives could usefully be considered for inclusion in their 2017 municipal budget deliberations at committee and council.
---
Vous êtes invités à « ParlonsBudget » - une consultation qui porte sur comment avancer les priorités identifiées par les résidents.
En vue des budgets municipaux de 2015 et de 2016 pour la Ville d'Ottawa, les Conseillers représentants les quartiers urbains (Quartier 12, 13, 14, 15 & 17) ont co-organisé des consultations avec les résidents afin de mieux comprendre leurs priorités et de discuter des options de financement. Les centaines de résidents qui ont participé aux séances ont systématiquement classifié l'abordabilité du transport en commun, la prestation des services sociaux et la sécurité des déplacements pour tous les modes de transport come leurs priorités principales.
Avec ces priorités bien définies, cette année la consultation portera sur la méthode et le « comment » plutôt que sur le contenu et le « quoi ». La consultation consistera de courtes présentations en plénière sur les trois priorités, de discussions en table ronde et de recommandations spécifiques pour les Conseillers quels initiatives pourraient être inclus dans leurs délibérations budgétaires 2017 en Comités et en Conseil.