Description
Bugs & Drugs Day returns on October 5, 2016! 
The Bugs & Drugs program provides both primary care providers and internal medicine physicians with information and skills required to reduce the instances and intensity of infectious disease in our community. Content is focused on commonly seen infectious diseases in our community, guideline updates, and treatment options.
Bugs & Drugs will feature presentations by physicians and interprofessional experts in the area of Infectious Disease.
This program is open to healthcare professionals seeking to update their knowledge and skills  in treating patients with infectious disease in a hospital and/or community setting.
2016 Proposed Agenda*

Community Acquired Pneumonia presented by Dr. Mark Downing

"Emerging Viral Infections: From A to Zika" presented by Dr. Kevin Schwartz

Public Health Update 2016 presented by Dr. Jennie Johnstone

"Lyme Disease - Fact & Controversy" presented by Dr. Sigmund Krajden
"What MUSt (Microbiology Utilization and Stewardship) we do to improve primary patient care?" presented by Dr. Larissa Matukas
*Agenda Subject to Change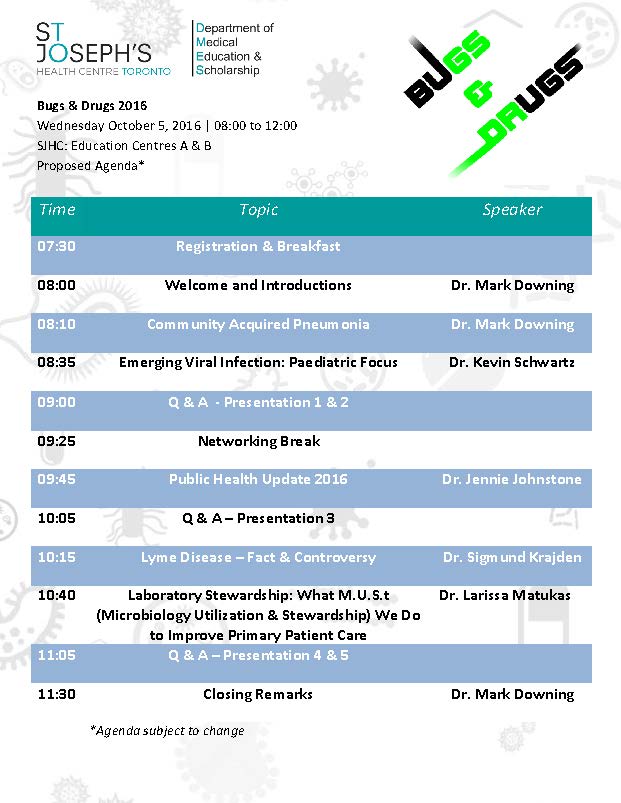 * * *  More information will become available closer to the event date * 
Save the Date!