Description
Writing a business plan is one of the most important steps for a startup. Learn how to prepare a business plan that suits banker and investor requirements.Presented by Eddie Lee, CEO of OneHub Business Development Centre and former Acer Venture executive.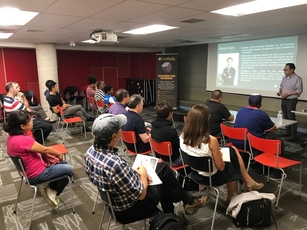 ---

About Eddie
Eddie is the founder of First Financial Controller Inc. and Canada Business Enterprise Inc., currently managing a dozen companies in Canada and overseas as CFO and senior executive. OneHub, the innovative business development centre Eddie established in Markham, has greatly contributed to the expansion of his activities.
Eddie held a leadership position for many years at Acer Group, a leading multinational IT provider with revenue reaching US$13 billion in 2013. During his engagement with Acer, Eddie helped set up their operations in China and Europe. He implemented a worldwide business development strategy which helped Acer build functional excellence and accelerate growth in the past decade.
Throughout Eddie's career, he has proved the effectiveness of his leadership in cities across the globe including Toronto, Winnipeg, London, Zurich, Milan, Paris, San Jose, Barcelona, Stockholm, H.K., Taipei, Beijing and Shanghai.
---

About OneHub Business Development Centre
A unique innovative center located in Markham designed for immigrant entrepreneurs, students, and SME business owners to deepen their understanding of the business world.
We have programs, seminars, and courses designed to prepare even novices for business success. We also offer facilities to provide essential resources that will strengthen, enhance, and grow your business.
We add value to you and your organization, helping you improve your own skills while navigating the challenging, ever-changing business landscape. Simply put, OneHub is the ultimate place for business.
We support the community and help Immigration Entrepreneurs
We provide training and leadership development program for Corporation and Individual
We offer a one-stop business solution, including virtual office services, legal, accounting, marketing, for SME business owners
We help business transform to Franchise Model
For details, please visit www.onehub.ca
---
Drop in. No registration required. For more information, please call
Eddie Lee : +1(647)938-4618