Description
Do you have a vision for a more just and equitable society? Interested in learning more about social entrepreneurship? Social entrepreneurs use entrepreneurial tools and market-based strategies to achieve social or environmental impact.
Large companies and non-profits alike are increasingly using social entrepreneurship as an approach to generate profit while benefiting people and the planet (the triple bottom line!). In collaboration with the Centre for Social Innovation, EDGE invites you to a lunch and learn workshop to explore this growing sector.
As an aspiring social entrepreneur or anyone curious about the topic, you'll consider how we define changemaking and social entrepreneurship, and explore what it takes to build a successful social enterprise.
Participants will:
Understand the definition and diversity of social enterprises

Explore how to clarify an idea and get the ball rolling on a social venture

Consider how to measure and tell the story of social and environmental impact

Connect with amazing, like-minded individuals
---
Guest Speaker: Marisol Fornoni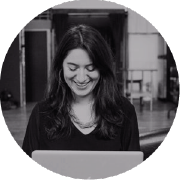 Marisol Fornoni is the Social Venture Coach at the Centre for Social Innovation. Marisol mentors social enterprise founders in Ontario to help them recognize, measure, and promote the social impacts of their ventures. Marisol is deeply committed to supporting social entrepreneurship grow in Canada and has been trained in the Lean4Flourishing approach. Marisol supported Lean4Flourishing to roll out its first entrepreneurial business model innovation accelerator in 2016 and has since worked with more than 60 entrepreneurs as a business coach using this approach. Prior to this, Marisol worked with social enterprises in a variety of roles including as development officer, business developer, events coordinator and operations lead.
---
PLEASE NOTE:
This is a free event. Seats are limited. Register now to save your spot!
Snacks and drinks will be provided.
Paid parking is available on campus.
MEDIA CONSENT: Photographs and video recordings may be taken at this event. Your image may be used in printed and electronic publications for promotional and educational purposes, and may be made available to the media and other third parties, or published on the Internet. By registering for any of our events, you understand and acknowledge that your image may be taken and used at our discretion. If you have concerns about your image being used for these purposes, please speak to one of the organizers at the Registration Desk.
---
Map to room B212