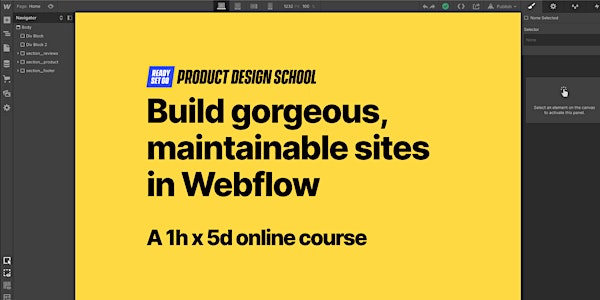 Build gorgeous, maintainable sites in Webflow, 1hr x 5 days
A custom designed site is easier than ever with Webflow. This course introduces a CSS Utility framework to build flexible sites in Webflow.
Refund Policy
Contact the organizer to request a refund.
Eventbrite's fee is nonrefundable.
About this event
Class starts at 12pm ET and runs to 1pm ET from Monday Nov 23 to Friday Nov 27 inclusive.
A custom designed site beautifully presented on every screen is easier than ever with Webflow. You'll learn how to approach the process of building websites so you don't paint yourself into a corner and end up with a fragile site that you're too afraid to update.
This course is specially designed for new and existing Webflow designers familiar with CSS and HTML looking to create custom websites. We'll teach you how to use a structured approach that's easy to maintain in the long term.
Key concepts we'll cover include:
Make it easy for other team members to contribute
Use a design systems approach bring consistency
Write less meaningless css
Makes revisiting completed projects for that little update much less daunting
Accessibility is a first class citizen
Check out the full curriculum here: Course Outline
Instructor - Dayton Pereira (LinkedIn)
I'm the Founder and Product Strategist at Ready Set Go, a product design agency I've been running for the last 4 of 20 years that I've been in the product design business. I've built a lot of stuff over that time and continue to do so everyday.
These courses are a way for me to share everything I've learned and to help the next generation of designers build incredible businesses and products.
This course is brought to you with love from Ready Set Go