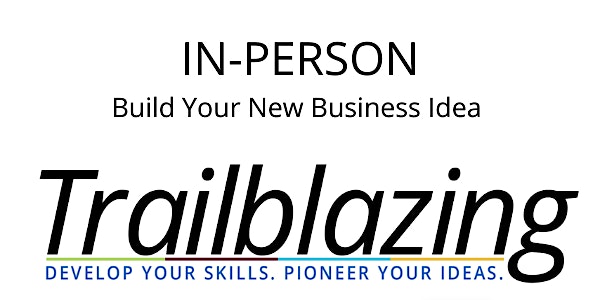 Build Your New Business Idea (Trailblazing Week 5 | IN PERSON)
Are you confused about how to start your business? Join us to learn how to prototype and iterate your business ideas!
By University of Lethbridge Agility Program
When and where
Date and time
Tue, Mar 14, 2023 6:00 PM - 7:30 PM MDT
Location
Agility Innovation Zone SA6304, University of Lethbridge 4401 University Drive West Lethbridge, AB T1K 3M4 Canada
About this event
Are you confused about how to start your business?
Participants will learn about prototyping and iterating business ideas. You will learn about minimal viable products and creating a roll out plan.
By the end of the session, you will:
Create a prototype of your idea for testing with customers
Create your sixth slide for your pitch deck: The 30-60-90 Day Plan Slide
By the end of the workshop series, you will:
Build a strong foundation for your business idea;
Build a pitch deck that you can use in the upcoming Launch Point Pitch Competition (see below);
Build a network of like-minded entrepreneurs, mentors, and community supports.
What is Trailblazing?
Trailblazing is a 6-week program that will help you design a fool-proof business based on an idea. You will learn how to think like an entrepreneur, which will help you become a better problem solver and thinker. Trailblazing will help you either start your own business or gain a competitive advantage in landing your dream job. You will also be invited to enter the Launch Point Pitch Competition where you could win $2,000!
Learn more about the full series and register for more sessions here.
Here's a glimpse of the full series:
WEEK 1: Find Customers for Your New Business | February 6th – 12th
WEEK 2: Beat Out the Competition | February 13th – February 19th
BREAK | February 20th – 26th
WEEK 3: Make Your Idea Unbeatable | February 27th – March 5th
WEEK 4: Make Money in Your New Business | March 6th – March 12th
WEEK 5: Build Your New Business Idea | March 13th – March 19th
WEEK 6: Pitching Your New Idea for Results | March 20th - March 26th
The Launch Point Pitch Competition
The Launch Point Pitch Competition is a high-energy competition to elevate early-stage entrepreneurs on their start-up journey. It provides new founders an opportunity to pitch, validate, and help launch their business idea. Competitors will be challenged to convey:
the need for their business solution;
their ability to create and deliver their business idea; and
their ability to build a sustainable business that will grow over time.
Applications open February 1st, 2023 and close March 30th, 2023.
Learn more about the competition and apply here.
About the organizer
Agility is a multidisciplinary program at the University of Lethbridge open to all students that fosters an environment of creative discovery, nurtures entrepreneurial thinking and provides the supports needed for students to develop and implement innovative solutions that impact and vitalize society.