About this Event
A unique retreat for unique times.
Do you ever feel like there is more out there for you and not quite sure what that is?
Constant racing for success creates habitual and unconscious goal setting. We need to re-learn how to move toward our dreams — with trust and well-placed devotion. If your heart's been pacing to find a better way to set your life goals, I can show you how at my next Desire Map Retreat.
Based on the best-selling book The Desire Map, we get straight to the heart of the matter: How you want to feel? At the end of the weekend, you will walk away with your Core Feelings and use those to guide your life decisions in your career, your body, your creativity, your relationships, and your spirit.
Let's use the insights we gained from 2020 and create what we want for 2021
Here is how it works:
We'll meet via zoom as follows:
Friday Oct 23rd from 4 pm to 6 pm (MST)
Saturday Oct 24th from 10 am - 12 pm + 1 pm - 3 pm (MST)
Sunday Oct 25th from 10 am - 12 pm + 1 pm - 3 pm (MST)
You're strongly encouraged to retreat into a beautiful serene space (with WIFI !!!), where you can be undisturbed for our group calls and quiet contemplation.
Nourish your body and your soul with walks in nature, mountain-, water views, or both, a yoga class and wholesome food.
If you can't get away then DIY it at home. Send the kids to grandmas and order in! Light a candle, burn some incense, and play therapeutic music in the background.
This is YOUR time, so build your own retreat.
For my 8 Amazing Build Your Own Retreat Ideas click here.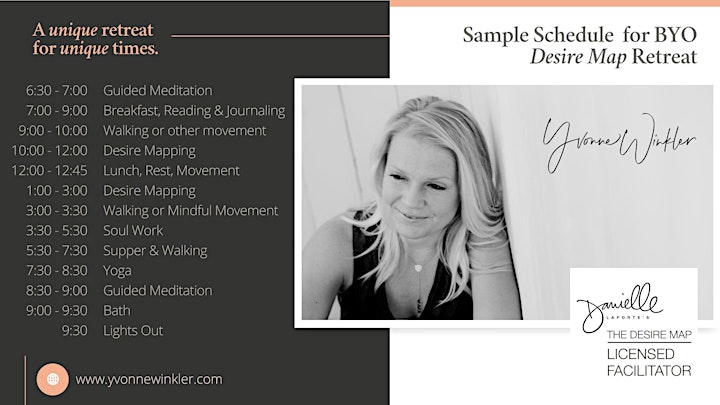 Never done this before? Here is what workshop participants have said:
"This was a hard, but much needed process, in order to look at creating goals from my heart as opposed to the 'to do list' masculine mentality. Yvonne explained and delivered it so well and with such care, that I was able to put my guard down in a safe space."
—Lisa Blough, Virtual Desire Map Workshop Participant
"Worth it if you're looking for what makes you happy so you can focus more on that and gain better clarity on fine-tuning your purpose or current goals."
—Kati Pauls, Virtual Desire Map Workshop Participant
"It's the perfect weekend to devote to yourself, to feed your soul and to explore what you deeply desire in life - all in the company of an amazingly supportive community of women."
—Alexis Jackson, Desire Map Workshop Participant
"I was surprised to find that the tribe of women I met at The Desire Map Workshop helped me to open up and go deep — really deep, really fast. There was no judgement, no suggestion of how to feel. Sharing in that sacred space was powerful."
—Twyla Dill, Desire Map Workshop Participant
"I desire mapped on my own before, but the group experience was radically different. It became a space for us to share, cry, laugh, and most importantly, to expand. And because I was so in it, I'm now bursting with ideas about how my own workshops will look, feel, smell, taste and sound. I'm honored to have been part of such a life-altering experience."
— Marcy Cruice, Desire Map Workshop Participant