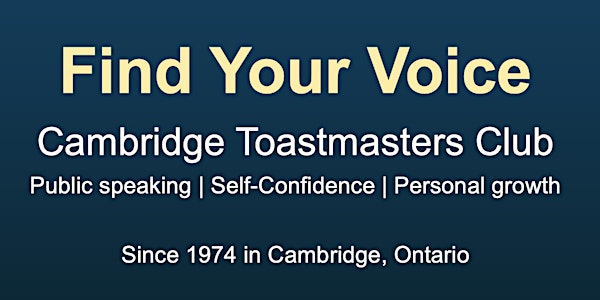 Multiple dates
Build your public speaking and leadership skills at Cambridge Toastmasters!
You can become a confident public speaker! Visit a Cambridge Toastmasters meeting and learn how in a supportive, online environment.
By Cambridge Toastmasters
Date and time
Thu, Dec 8, 2022 4:15 PM - Thu, Jun 15, 2023 6:00 PM PST
About this event
Scared of public speaking? Worried that you're not persuasive as you can be in business meetings over zoom?
Cambridge Toastmasters is ready to help you find your voice and confidently express yourself personally and professionally — both in-person and online.
Guests are always welcome to visit our club meetings Thursday evening. It's an opportunity to chance to learn more about how Toastmasters helps its members grow. Our meetings have gone virtual during the pandemic, using the Zoom video platform.
Register with us for a ticket and we'll send you a Zoom link to join the meeting.
Toastmasters is open to anyone 18 years or older who wants to improve their communications and presentation skills. Every meeting offers members a chance to practice their public speaking skills — both with and without preparation — in a supportive environment. Members help each other improve, with constructive feedback on their progress.
Meetings offer opportunities to meet new people, build personal networks, practice public speaking techniques, learn leadership skills and improve self-confidence.
About the organizer
Cambridge Toastmasters was chartered in 1974 and is one of the more than 12,000 Toastmasters International clubs worldwide which provide speaking and leadership skills to members. Celebrating excellence for over 40 years.
Our club provides a friendly and supportive environment where members develop their Communication and Leadership skills each week in an energized meeting.
We provide a supportive and positive learning experience in which members are empowered to develop communication and leadership skills, resulting in greater self-confidence and personal growth. Members pride themselves on offering a safe environment where everyone learns and practices public speaking, speechwriting, presentation, evaluation and leadership skills.
Guests are always welcome at our meetings!