About this Event
COVID-19 has blindsided the world with its global scale, speed, and economic turbulence. Local food sustainability, mental health, mass unemployment, service delivery online, long-term care, and essential workers' rights are examples of the real problems recasted and exacerbated by the pandemic.
The pandemic has also revealed the fragility of the social impact world's infrastructure, capacity, and resources to respond to COVID-19 and its cascading challenges post-pandemic. This raises the question: How should the social impact world build back better in order to meet the dramatic changes communities face post-pandemic?
From mid-July until December 2020, Future of Good in partnership with Community Foundations of Canada and United Way Centraide Canada is hosting a series of digital conversations for social impact organizations to understand the dramatic changes communities are facing in the next 12 months, and to envision the ways social impact organizations should adapt in order to support a forward-looking recovery.
Our Next Digital Conversation: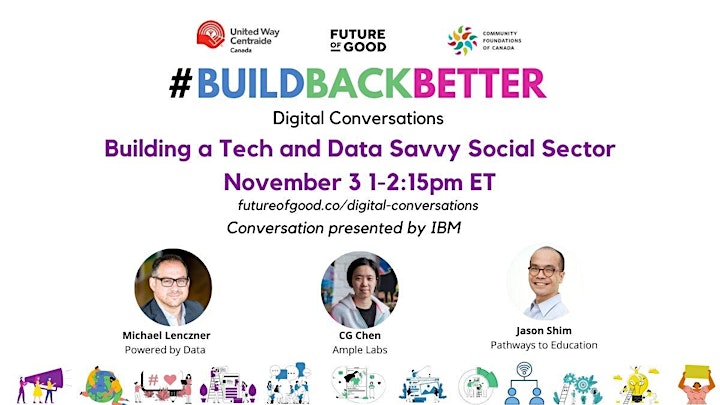 Tuesday, November 3 1-2:15pm EDT: Building a Tech and Data Savvy Social Sector
We weren't prepared. Millions of social impact workers were required overnight to shift online, move teams, operations, programs, services, and fundraisers all remote.
With a sector vastly missing IT departments and capacity for technology upgrades, the swift shift to online revealed serious gaps in the design, development, and delivery of social sector research, programs and services as a result of inadequate technology and data literacy, capacity, and resourcing.
How do we equip the social sector for the digital and data-everywhere era?
Join us to explore the barriers in the social sector to technology and data upgrading, solutions gaining traction, and how a tech and data-savvy NGO can thrive in a post-pandemic era.
Speakers:
Michael Lenczner, Powered by Data
CG Chen, Ample Labs
Jason Shim, Pathways to Education
More to be announced soon!
Follow and join the conversation using #BuildBackBetter
We thank United Way Centraide Canada and Community Foundations of Canada for partnering with Future of Good to host this event.