A series of digital conversations to understand and envision the road to building back better.
About this Event
COVID-19 has blindsided the world with its global scale, speed, and economic turbulence. Local food sustainability, mental health, mass unemployment, service delivery online, long-term care, and essential workers' rights are examples of the real problems recasted and exacerbated by the pandemic.
The pandemic has also revealed the fragility of the social impact world's infrastructure, capacity, and resources to respond to COVID-19 and its cascading challenges post-pandemic. This raises the question: How should the social impact world build back better in order to meet the dramatic changes communities face post-pandemic?
From mid-July until December 2020, Future of Good in partnership with Community Foundations of Canada and United Way Centraide Canada is hosting a series of digital conversations for social impact organizations to understand the dramatic changes communities are facing in the next 12 months, and to envision the ways social impact organizations should adapt in order to support a forward-looking recovery.
Our Next Digital Conversation: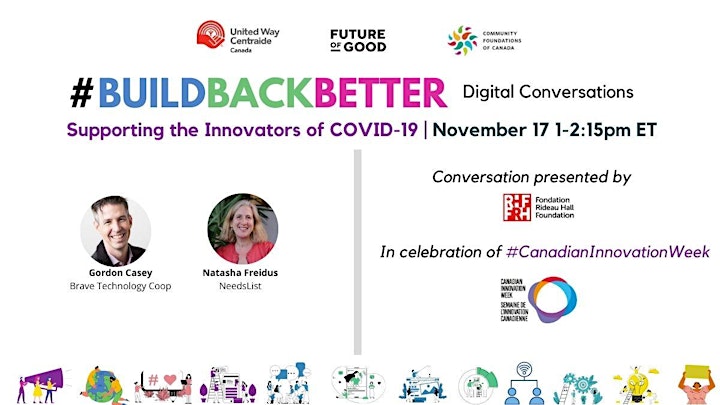 Tuesday, November 17 1-2:15pm EDT: Supporting the Innovators of COVID-19
The pandemic has had damaging effects on communities, the full effect of which has yet to be seen. But COVID-19 has also accelerated social innovations. Thousands of initiatives and innovators found across the country have taken action and brought to life new solutions to pressing societal problems that will have ongoing and lasting impact.
From new cooperatives and collaboration amongst social purpose organizations to better serve communities, to new technologies and digital transformations to increase access to services, and new thinking on how we fund and support social purpose initiatives.
How do we harvest learnings from this COVID-19 period of accelerated prototyping, in order to better support social innovators and maximize their impact for the long-term?
Join us during Canadian Innovation Week to explore what COVID-19 has taught us about better supporting Canada's leadership in social innovation.
Speakers:
Natasha Freidus, NeedsList
Gordon Casey, Brave Technology Coop
Follow and join the conversation using #BuildBackBetter
We thank United Way Centraide Canada and Community Foundations of Canada for partnering with Future of Good to host this event.