A series of digital conversations to understand and envision the road to building back better.
About this event
COVID-19 has blindsided the world with its global scale, speed, and economic turbulence. Local food sustainability, mental health, mass unemployment, service delivery online, long-term care, and essential workers' rights are examples of the real problems recasted and exacerbated by the pandemic.
The pandemic has also revealed the fragility of the social impact world's infrastructure, capacity, and resources to respond to COVID-19 and its cascading challenges post-pandemic. This raises the question: How should the social impact world build back better in order to meet the dramatic changes communities face post-pandemic?
From mid-July until December 2020, Future of Good in partnership with Community Foundations of Canada and United Way Centraide Canada is hosting a series of digital conversations for social impact organizations to understand the dramatic changes communities are facing in the next 12 months, and to envision the ways social impact organizations should adapt in order to support a forward-looking recovery.
Our Next Digital Conversation: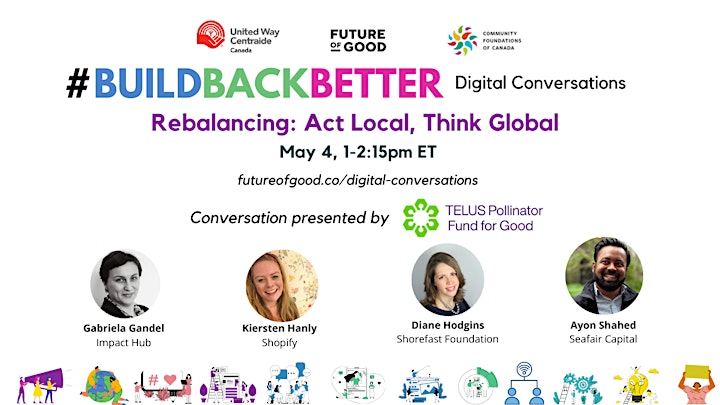 Tuesday, May 4th 1-2:15pm EDT: Rebalancing: Act Local, Think Global
The pandemic has amplified inequities and displayed the limitations of globalization, as we await for global supplies and resources to support Canada's pandemic recovery. When we zoom in, we can see that more resilient and self-sufficient local communities are key to building back better. But, perhaps ironically, communities can't get there alone — we need to learn from one another, and share best practices and new ideas. That's exactly what this digital conversation will do.
We'll explore questions like: What responsibility do corporations have to local communities? What role could tech for good play in the localization transformation? What are the social issues that intersect with the localization agenda — like gender equity, racial justice, disability rights, and others? And how can every social impact organization in the country be informed and empowered to build stronger local communities around them?
Join us as we seek to answer these big questions and more, and highlight unique projects and partnerships that are acting locally and thinking globally to build community resilience.
Speakers:
Gabriela Gandel, Impact Hub
Kiersten Hanly, Shopify
Ayon Shahed, Seafair Capital
Diane Hodgins, Shorefast Foundation
Follow and join the conversation using #BuildBackBetter
We thank United Way Centraide Canada and Community Foundations of Canada for partnering with Future of Good to host this event.