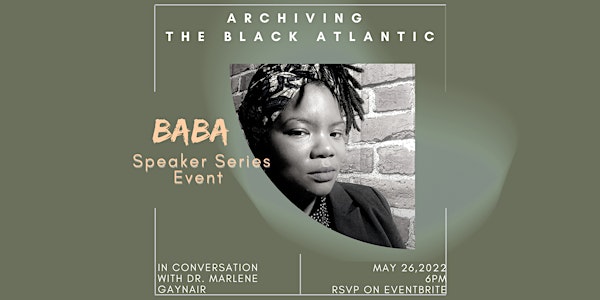 Building A Black Archive Presents: Speaker Series feat. Dr. Marlene Gaynair
Speaker Series: Archiving the Black Atlantic feat. Dr. Marlene Gaynair
About this event
Join us on Thursday, May 26, as guest speaker Dr. Marlene Gaynair will engage the audience with conversation surrounding Black geographies and her journey building the interactive exhibit "Islands in the North".
About Dr. Gaynair:
Dr. Marlene Gaynair is a historian of the Black Atlantic, with a particular focus on North America and the English-speaking Caribbean. She is an associate editor at Gotham, The Center for New York City History, and architect of "Islands in the North," an interactive, curated exhibit (re) creating Black cultural and spatial identities in Toronto. For the 2021-2022, she is the William Lyon Mackenzie King Postdoctoral Fellow at Harvard Weatherhead Center, and thereafter, assistant professor of History at Washington State University.
About Building A Black Archive:
Building A Black Archive (BABA) is a grassroots community initiative dedicated to building Black archives in Canada. Our work also includes speaking engagement, archival research and running a community archival program engaging Black youth ages 18-29 on Ontario to build archives through writing, podcasting and more.