A 90-minute pre-summit info session to share how the summit will unfold, hear your reflections, and work what we hear into the summit itself
About this event
What If We Create and Implement Community-Based Solutions to Housing?
Shaun Loney, author of A Beautiful Bailout: How Social Innovation Will Solve Government's Priciest Issues to join us on June 9th
WHY DO WE ACCEPT THE CURRENT BARRIERS as the reasons people can't get housing? Why aren't we looking at how to tear down those barriers and challenge ourselves as communities and at different levels of government?
We can challenge the commodification of housing, which is the driving cultural, political and economic force that has led to the housing crisis in Canada. We can find a common ground between community members despite income differences, cultural differences, to discover concrete solutions for acceptable and accessible housing for all.
Joining together, no longer embarrassed we are now channeling our harm, pain, outrage, and anger to create numerous homes of choice and spaces where more homes are birthed and made possible.
We are communities with skills and strengths. We can shake things up and illuminate the truth of our power, ability, gifts, and capability to solve our own problems together. We are capable of loving, caring for, and embracing all individuals in whatever stage of life they find themselves.
By liberating, enabling and ennobling community and people power, honouring personhood, expanding the definition of what is considered home, and by tapping untold community abundance we can ensure everyone who wants a home has one.
Let's elevate the power and importance of home and raise up voices that are currently unheard.
Join the Conversation with Shaun
This Thursday, we will be joined by Serial Social Entrepreneur and Author of An Army of Problem Solvers and A Beautiful Bailout, Shaun Loney. Shaun has long held a passion for ensuring that everyone who wants a home has one. To that end, he is co-author of The Winnipeg Model: A New Financial Tool to Address Homelessness.
He has co-founded and mentored the establishment of 12 different social enterprises including www.buildinc.ca, www.purposeconstruction.ca, and www.akienergy.com. You can learn a little more about Shaun in the resources shared below.
As a provocative addition to our Community Conversation, we will invite Shaun to share his disruptive approaches to changing the way citizens, social enterprises, and governments work together to solve our most intractable problems.
If you would like to experience:
A place to explore new ideas
Being heard by, and hearing from, others
Engaged, critical, passionate, compassionate, goal-oriented, productive, inclusive discussion
A shake up by inviting diverse voices
Community housing solutions that speak to both social inclusion and social welfare
Citizens and communities doing it better
People-centred solution sharing
Work in a project that will actually create some change
A foothold, a lifeline, a pathway to home
A sense of connection as we collaborate
Community building vibes
This might be the conversation for you! We'd love it if you join us on:
Thursday, June 9, 1:00 – 2:30 — Community Conversation II (Register on this page)
During our time together we'll hear from Shaun, share how the upcoming summit will unfold, hear your reflections, and then work what we hear into the summit itself.
If you choose to join us, we ask that you:
Arrive on time and commit to being fully present for the whole gathering
Come prepared to listen to and learn from others
Be ready to share your stories and gifts
Consider saying yes to an initiative that inspires you
YOU MUST REGISTER TO RECEIVE THE LINK for this Community Conversation Thurs. June 9!
This is an open and inclusive event. Invite others who you would like to join you!
If you are interested in changing some lives through collective action, by working together to identify, and make real, new housing solutions, you are invited to join us for a Brantford/Brant Community Housing Summit on Thursday, June 23, from 12:00 – 5:00 EST. CLICK HERE to register for the Summit.
A Few Resources
CHECK OUT THE FOLLOWING Axiom News Podcast episodes featuring Shaun in conversation with Peter Pula:
Watch This!
MOVING FROM A PLACE OF SCARCITY TO ABUNDANCE, from managing problems to solving them. This humorous short film — Broke - The Business of Systems Change — points the way to just how broke the system is and how we can reimagine implementing actual solutions by government being able to purchase Outcomes ... what the work of non-profits does.
(Produced by New Perception for Encompass Co-op. Shaun is a senior partner at Encompass.)
Graphic Reflections
Graphic reflections from the May 26 pre-summit Community Conversation by Yvonne Hollandy. To see a larger version click here.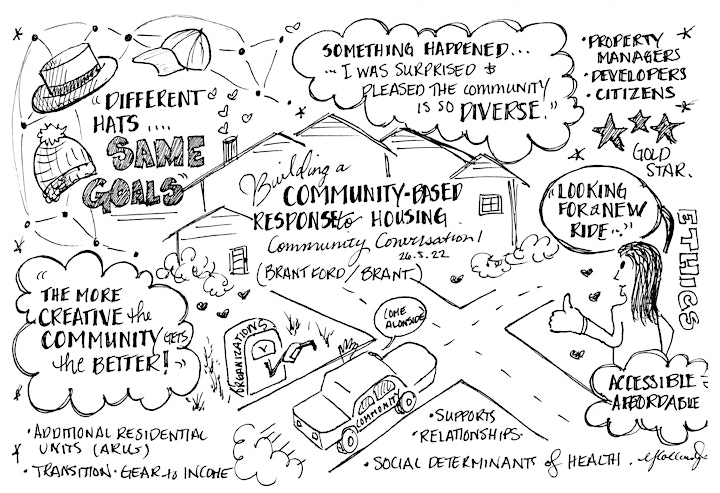 These events are a collaborative organizing effort between the following:

This event is supported by Axiom News. If you have any questions, write to events@axiomnews.com.