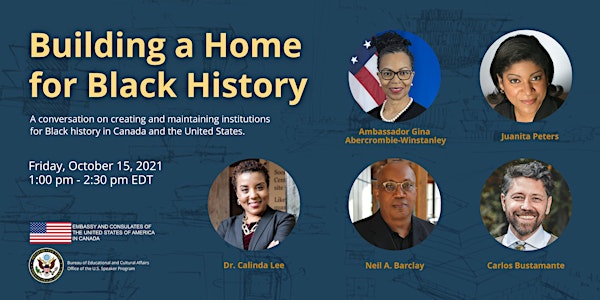 Building a Home for Black History
Gain insights and strategy for creating and maintaining national institutions for Black history from Canadian and American museum leaders.
Date and time
Fri, Oct 15, 2021 10:00 AM - 11:30 AM PDT
About this event
How do you build a home for a nation's Black history? How can you make a museum that reflects the diversity of a country? Juanita Peters, Director of the Africville Museum, will moderate a conversation on how to take a Black history museum from ideas to open doors.
With an introduction from the Department of State's Chief Diversity and Inclusion Officer, Ambassador Abercrombie-Winstanley, this panel features experts from the United States' leading institutions on Black history and culture:
Dr. Calinda Lee
Head of Programs and Exhibitions
National Center for Civil and Human Rights.
Carlos Bustamante
Associate Director of Project Management and Planning
National Museum for African American History and Culture.
Neil Barclay
President and CEO
The Charles H Wright Museum.
Gain practical insights on creating museum spaces for diverse communities and ask your own questions during this 90-minute webinar and Q&A.
Ambassador Gina Abercrombie-Winstanley, a 30-year diplomat, is the Chief Diversity and Inclusion Officer for the Department of State and was the longest serving U.S. Ambassador to the Republic of Malta. Through a series of senior positions that included advising the Commander of U.S. cyber forces on our foreign policy priorities, expanding our counterterrorism partners and programs as Deputy Coordinator for Counterterrorism, and Coordinating the largest evacuation of American citizens from a war zone since WW ll, her professional life has played out almost daily in international media.
She began her formal work in teaching and leadership development as Chairwoman for Middle East Area Studies at the prestigious Foreign Service Institute where U.S. diplomats are trained. Earlier in her career, she served in Baghdad, Jakarta and Cairo before taking on the position of Special Assistant to the Secretary of State for the Middle East and Africa. Her Middle East assignments include election monitoring in the Gaza Strip and, an extraordinary assignment where she actively supported gender equality in the Kingdom of Saudi Arabia as the first woman to lead a diplomatic mission there. In addition to the State Department, she has held senior positions at the Defense Department and at the National Security Council of the White House.
Prior to that, she was a fellow on the Senate Foreign Relations Committee for the then Ranking Member, Senator Joseph Biden. Ms. Abercrombie-Winstanley is the recipient of the Maltese Order of Merit, Department of State Meritorious and Superior Honor Awards, including "For acts of courage during an attack on the U.S. Consulate General, Jeddah, Saudi Arabia on December 6, 2004 by al-Qa'ida terrorists."
Over the years, Ms. Abercrombie-Winstanley has been a keynote speaker for a variety of organizations including IESAbroad, The Cleveland City Club, TrueBlue Inclusion; Harvard University, The University of Denver, The University of Malta and Johns Hopkins University. She is an in-demand panelist and moderator at some of the most respected international think tanks including The German Marshall Fund, CSIS, The Brookings Institution, The World Affairs Council and The Council on Foreign Relations on issues ranging from U.S. Mid-East Policy, how diversity and inclusion improve U.S. foreign policy making, cyber security challenges and counterterrorism. She is a strong proponent of excellence through inclusion across organizations and strives to break down barriers to the full participation of women and minorities. She was Ambassador-in-Residence at Oberlin College for 2020 and served as the Co-Chair of the Diversity in National Security working group for the Biden-Harris campaign.
Ms. Abercrombie-Winstanley, a Cleveland native, has degrees from The George Washington University and The Johns Hopkins University and is a member of the Council on Foreign Relations. She has been an active Board member on several organizations committed to excellence in educating and leadership development including the Forum for Education Abroad, College Now Greater Cleveland, and the International Career Advancement Association. She also served on the boards of the Cleveland Museum of Contemporary Art and the Middle East Policy Council. She sings with the Washington Performing Arts Society and has been published in the New York Times Opinion and The Foreign Service Journal. She is the co-author of two papers published in the New York Review of Science Fiction on "Diplomacy in Star Trek" and "The Representation of Disability in Star Trek." In 2019, she was voted into the American Academy of Diplomacy.
Juanita Peters is the Executive Director of the Africville Museum. The museum is a replica of Seaview Baptist Church which was the heart of the small black community which was razed in the 1960's. More than a memorial, the Africville Museum and its exhibits invite the visitor to experience life "out home" in Africville, and the recognize the courage that transcends racism and hatred to begin the journey to reconciliation.
Juanita Peters is also an actress, journalist, news anchor and playwright, film and theatre director. She is most known as reporter and anchor of CBC News at Six in New Brunswick in the 80's and 90's and as host of four seasons of CBC's Doc Side, documentary series.
Peters is a founding member of Women In Film and Television Atlantic, a member or ACTRA, Canadian Actors Equity Association and Playwrights Atlantic Resource Centre. She serves on the board Women In the Directors Chair, Playwrights Atlantic Resource, Matchstick Theatre, and the Robert Pope Foundation. Peters' is also a founding member of Nova MultiFest, Atlantic Canada's newest multicultural festival
Educated at Spelman College (BA), New York University (MA), and Emory University (MA and PhD), Calinda N. Lee joined The Center to head up our substantive program work on education, civic engagement, facilitated conversations, and training experiences for diversity, equity and inclusion, law enforcement and advocacy.
In this role, Calinda's historical expertise informs opportunities to connect stories and events from the past with current day circumstances. The value of community engagement in historical interpretation as well as civil and human rights work is of utmost importance to Calinda and informs programs and initiatives under her leadership.
Calinda previously served as Vice President of Historical Interpretation and Community Engagement for the Atlanta History Center. In this role, she served as chief historian, considering historical interpretation for all aspects of the region's past to develop the AHC's primary collections, historic houses, historic gardens, and public programs. Calinda also developed Community Engagements and the AHC's Neighborhoods Initiative.
As a scholar and administrator, Dr. Lee has held teaching and administrative positions at Emory University, Loyola University Chicago, and Spelman College. A prolific practitioner, she is an award-winning curator, writer, and educator. In addition to The Center and AHC, she has worked with institutions including the Albuquerque Museum, the City Museum of Washington, DC, the Maryland Museum for African American Life and History, the Chicago History Museum, Emory University, among others.
In January of 2019 Barclay was selected to lead the Charles H. Wright Museum of African American History as its president and CEO.
A former attorney, Barclay was most recently executive director and CEO of the Contemporary Arts Center (CAC) in New Orleans. During his five-year tenure, the institution's budget increased by more than 40 percent including lead gifts from the nation's major art philanthropists.
Barclay's experience also includes seven years of service as associate director of the Performing Arts Center for the University of Texas at Austin and service as founding president and CEO of Pittsburgh, Pa.'s August Wilson Center. Additionally, he was instrumental in capital development planning for Los Angeles' Vision Theater, originally built by Howard Hughes for the city.
Barclay has demonstrated his personal commitment to art and culture as a peer panelist for the National Endowment for the Arts, New England Foundation for the Arts' National Dance Project, the Gerbode Foundation, and the Mid Atlantic Arts Foundation. A leading national presenter of contemporary performing and visual arts, Barclay serves on the Board of Directors and Executive Committee of the regional arts organization South Arts.
He is currently a member of the College of Communications and Fine Arts Advisory Board for Loyola Marymount University, Los Angeles, his undergraduate and law school alma mater.
Carlos Bustamante has nearly twenty years in the field of museum project management. In his time with the National Museum of African American History and Culture, he has led a diverse portfolio of projects including the Civil Rights Oral History Project in collaboration with the Library of Congress, the Slave Wrecks Project, and the design, development, buildout and installation of the Museum's inaugural exhibitions, collection storage facility, and conservation labs. Since the Museum's opening, Carlos has served as a consultant for many emerging cultural institutions both domestically and abroad. Prior to joining the Museum, he spent several years in the field of museum project management in Washington DC and New York, NY.