Building a resilient workforce to thrive in the next normal | Deloitte
Sales Have Ended
Registrations are closed
Call-in information and Q&A information (Sli.do): You are invited to call Webinar on Lifesize. Join the meeting: https://call.lifesizecloud.com/2008663 Join the Lifesize meeting using Skype for Business: https://skype.lifesizecloud.com/2008663 Call in by Phone or Mobile (audio only) Canada: +1 (844) 572-5683 Meeting extension: 2008663# Additional numbers: https://call.lifesize.com/numbers Calling from a Lifesize conference room system? Just dial 2008663 with the keypad. Other ways to call: https://call.lifesize.com/otherways/2008663 Q&A Information: https://app.sli.do/event/gtfltiam OR www.sli.do Meeting #Q553
Sales Have Ended
Registrations are closed
Call-in information and Q&A information (Sli.do): You are invited to call Webinar on Lifesize. Join the meeting: https://call.lifesizecloud.com/2008663 Join the Lifesize meeting using Skype for Business: https://skype.lifesizecloud.com/2008663 Call in by Phone or Mobile (audio only) Canada: +1 (844) 572-5683 Meeting extension: 2008663# Additional numbers: https://call.lifesize.com/numbers Calling from a Lifesize conference room system? Just dial 2008663 with the keypad. Other ways to call: https://call.lifesize.com/otherways/2008663 Q&A Information: https://app.sli.do/event/gtfltiam OR www.sli.do Meeting #Q553
Building a resilient workforce that can thrive in the next normal
About this event

An estimated 2.7 billion workers worldwide have been affected by full or partial lockdowns, according to the United Nations' labour body, the International Labour Organization.
Deloitte's 2020 Global Human Capital Trends report, The social enterprise at work: Paradox as a path forward, comes at a time when the pandemic has forced a rethink of workforce strategies. As organizations continue to respond to economic uncertainty and focus on recovery, leaders are learning, adapting and preparing to emerge stronger.
Join Zabeen Hirji, Executive Advisor, Future of Work, Deloitte, and Karen Pastakia, Partner and Future of Work leader, Deloitte Canada, in an interactive conversation as they present insights that organizations should consider to create a resilient workforce prepared to thrive in our next normal.
What big workforce issues are on the table for discussion?
The nature of work. There may have been some pauses due to COVID=-19 but the race to digitize is on.
Workers and their skillsets: the pandemic may have pushed the need and speed of upskilling and reskilling workers.
Workplace: COVID-19 may have changed the workplace forever. Is distributed working the new norm?
Culture: agility, experimentation, faster decision-making, speed to market, collaboration and co-creation – facets of work that have gone through change during COVID-19. How can organizations embed these new behaviours?
Leadership: What leadership capabilities have become critical? What new ones have emerged? What are you doing to lead your organization into recovery and reinvention.
Join our webinar guests as they speak to these and other shifts in the work environment.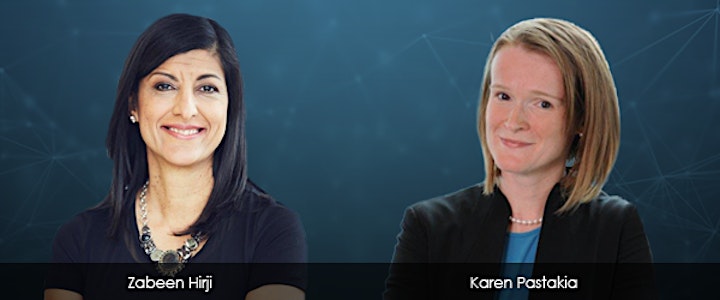 About the speakers
Karen Pastakia is a partner in Deloitte's consulting business and leads Human Capital Consulting business in Toronto. She works with organizations to ensure there is alignment and integration between the overall business strategy and the organization's HR and talent agendas.
As Deloitte's Global Advisor, Future of Work, Zabeen Hirji advises the firm and its clients on issues key to the transformation agendas of business and government. Areas of focus include lifelong learning and reskilling, redesigning work and workforce composition, culture transformation, diversity and inclusion and balancing short-term results and long-term sustainability. She is also an Advisor to the Clerk of the Privy Council for the Government of Canada on Diversity and Inclusion. She is also the Board Chair of Civic Action, a civic engagement organization.
From 2007 to 2017, Zabeen was RBC's Chief Human Resources Officer covering 80,000 employees in 40 countries, and a member of RBC's Group Executive Committee.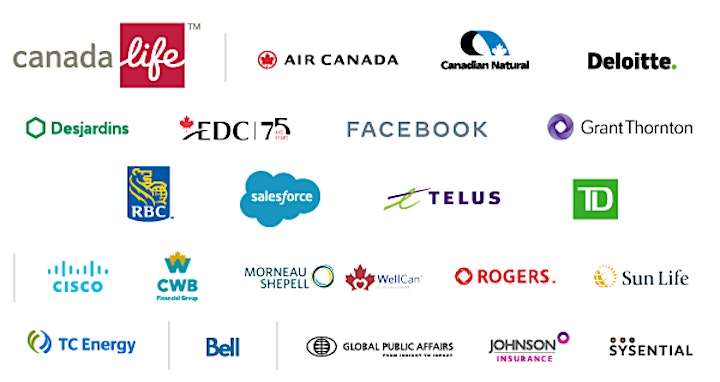 Organizer of Building a resilient workforce to thrive in the next normal | Deloitte
Since 1925, the Canadian Chamber of Commerce has connected businesses of all sizes, from all sectors and from all regions of the country to advocate for public policies that will foster a strong, competitive economic environment that benefits businesses, communities and families across Canada.
With a network of over 450 chambers of commerce and boards of trade, representing 200,000 businesses of all sizes in all sectors of the economy and in all regions, we are the largest business association in Canada, and the country's most influential. The primary and vital connection between business and the federal government, our views are sought after and respected by government, business leaders and the media thanks to our well-researched reports, analyses, position papers and policy resolutions that reflect a broad business perspective.