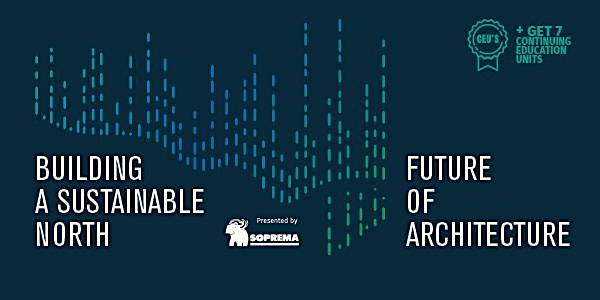 Building a Sustainable North / Rise for Architecture
A series of presentations on sustainability by SOPREMA followed by a public discussion on a proposed National Architecture Policy.
About this event
BUILDING A SUSTAINABLE NORTH
Discover building solutions that meet and exceed building, fire and energy codes while considering the significant challenges facing our industry today including climate change, durability, resiliency, environmental concerns, cost effectiveness, constructability and a significant impending shortage of experienced trade contractors.
Topics include:
SOPREMA Wall Systems. Efficient Design: Energy, Materials, Durability
SOPREMA Systems Testing and R&D (Wall, Roof, Foundation, etc.)
Fire Design Considerations (Non-Combustible Construction – Myths and Truths)
PERSIST Wall Design (History, Success, AB Experience, Smart Details and Design)
Q & A with a panel of experts
[presented by SOPREMA]
FUTURE OF ARCHITECTURE
The Rise for Architecture initiative, organized by the Canadian Architectural Licensing Authorities (CALA), is set to speak to all those involved in designing safe, healthy and uplifting built environments that protect and nurture the public and the planet. The profession has a deep regard and concern for the quality of the built environment and its powerful impact on society at every level – physically, spiritually, socially, culturally, economically and more.
We invite all stakeholders to engage in a conversation in an effort to foster a shared awareness of the value of quality planning and development and its benefit to society, and the importance of taking appropriate actions to support these goals. Everyone is a stakeholder and should join this discussion.
For more information, visit www.riseforarchitecture.com.
[presented by NWTAA]
SCHEDULE
[7:30 - 8:00] Registration
[8:00 – 8:15] Opening
[8:15 – 9:00] SOPREMA Systems Testing and R&D (Wall, Roof, Foundation, etc.)
[9:00 – 9:45] SOPREMA Wall Systems. Efficient Design: Energy, Materials, Durability
[9:45 - 10:00] Break
[10:00 - 10:45] Fire Design Considerations (Non-Combustible Construction – Myths and Truths)
[10:45 - 11:45] PERSIST Wall Design Part 1 (History, Success, AB Experience, Smart Details and Design)
[11:45 - 12:45] Tradeshow and Lunch (free for registrants)
[12:45 – 1:15] PERSIST Wall Design Part 2 (History, Success, AB Experience, Smart Details and Design)
[1:15 - 1:45] Roundtable, Panel, Q&A
[1:45 – 2:00] Break
[2:00 - 5:00] Future of Architecture - stakeholder forum regarding a proposed National Architecture Policy
[5:00 - 6:00] Cocktail Reception & Networking
Organizer of Building a Sustainable North / Rise for Architecture