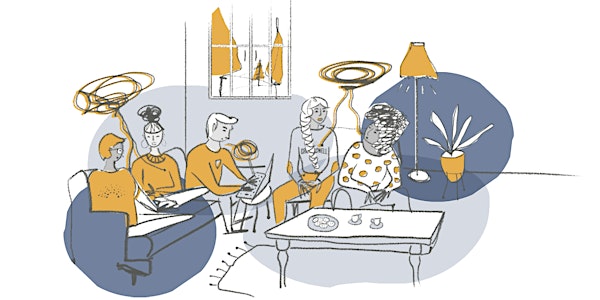 Building Alternative Futures of Work
We hear a lot about the future of work, but we need multiple futures of work, ones that we are all a part of creating. What's your vision?
About this event
WATCH LIVE NOW:
https://fb.watch/35_FJ3XHGm/
Work is a serious subject: it's connected to our identity, how we pay our bills, where we spend so much of our time, and it gets us in our heads much of the time. What if we applied all of our senses to the serious topic of work and had a little fun with it?
In this virtual event, you're invited to imagine and envision with all your senses: **What does your vision for the future of work feel, taste, smell, sound, and look like?**
How about alternative futures of work that are fun and fulfilling - instead of scarce and separate from the things we actually value. Let's imagine futures of work that are abundant, full of connections, resources, and possibilities, and move beyond the oppressive forces of colonialism, capitalism and supremacism that the dominant work culture is rooted in. And, let's explore how we can get there.
You'll experience a multi-sensory conversation seeded with alternative ways of working that our special guests are already weaving into their livelihoods. You're invited to create your own vision while you attend, with music, food, drawings, pictures, scents, textures - anything that you want to bring into your future of work. Come to listen, watch, and learn, and share your own alternatives futures of work if you feel inspired to.
----------
Land Acknowledgement
The Groundswell team will be joining from the stolen and occupied territories of the Musqueam, Squamish, and Tsleil-Waututh Nations. We will acknowledge where each of our speakers are joining us from during the event. We will also address and talk about how Indigenous sovereignty and decolonized practices learned from the original people of this land are essential for all paths forward.
----------
Accessibility
This event will be happening via Zoom. Once you register for the event, you will receive the link to join.
ASL interpretation services will be provided during the presentations, by Maple Communications, sponsored by EDP, Community Futures BC.
----------
Featuring special guests:
Vidya Crawley, CEO, Groundswell Alternative Business School
Vidya is a leading alternative business educator in Western Canada who designs and facilitates inclusive, experiential programs for entrepreneurship, intrapreneurship and local economic development. They bring nearly 20 years of global experience in advancing social purpose initiatives from the grassroots to the boardroom. Drawing on diverse practices of creative leadership, systems thinking, social justice, business design, and go-to-market strategy, Vidya believes in the power of showing up with head, heart and hands to transform the status quo.
Sangeeta Subramanian, Lead Consultant, The Inclusion Project
Sangeeta has over 20 years of professional experience in in the not-for-profit sector in Canada and Asia in the areas of strategic planning, equity and inclusion, facilitation, research and policy, partnership development, stakeholder engagement, mentoring, leadership development and civic engagement. Sangeeta is currently the Lead Consultant with The Inclusion Project, a collaborative network working on issues of gender, race and reconciliation, and youth engagement. She is also the founder of Chetna Consulting, a boutique firm the focuses on systems approach to Equity, Diversity and Inclusion in the public and private sector. Prior to this, she has held senior leadership roles with the Immigrant Employment Council of BC, Toronto Region Immigrant Employment Council, The Maytree Foundation, South Asian Women's Centre and Ontario Council of Agencies Serving Immigrants.
Curtis Rattray, Founder, Edziza Trails / Co-founder, Wholistic Indigenous Leadership Development
After finishing 6 years as President of the Tahltan Central Council, the elected spokesperson for the Tahltan Nation, Curtis started his own business called Edziza Trails where he provides capacity building services, aboriginal adventure tours and leadership development.  Capacity building is about working with Indigenous and non-Indigenous people and organizations to incorporate more indigenous content into their lives and/or organizations.  Curtis provides guided tours into remote areas of Tahltan territory.  Leadership development is based upon leadership, cultural experiences on the land and wellness. Curtis also co-founded a Tahltan NGO that provides Wholistic Indigenous Leadership Development.  He is project lead for Indigenous adaptions to climate change, documenting Tahltan knowledge, and community led monitoring projects.  He is also networking with other Indigenous communities around the arctic and sub-arctic and Snowchange Cooperative out of Finland.
Letitia Henville, UBC Arts Amplifier
Letitia Henville, PhD, is Graduate Programs Coordinate for the UBC Arts Co-operative Education Program and Project Lead for the UBC Arts Amplifier. She works one-on-one with MA and PhD students and postdoctoral fellows, helping them to find meaningful paid work during their studies and to prepare for their careers after graduation. In 2020, she started up the UBC Arts Amplifier, a student-led professional development initiative that supports Arts graduate students to leverage their own skills, expertise, and networks in co-developing their own work experiences with off-campus partners. The Arts Amplifier is designed to empower social sciences and humanities graduate students and postdoctoral fellows to pursue collaborative projects with community- and industry-based partners. The Arts Amplifier welcomes, respects, and includes people with multiple and diverse backgrounds and identities, and seeks partnerships with workplaces that empower all members of the community. Outside of her work at UBC, Letitia is an editor and writing consultant at Writing Short is Hard Consulting Company, and writes the monthly advice column "Ask Dr. Editor," published by University Affairs.
Your hosts:
Paola Qualizza and Samita Manhas
Follow us on social for more details leading up to the event:
www.facebook.com/groundswellschool
www.instagram.com/groundswellschool
www.twitter.com/groundswellyvr