Event Information
Refund policy
Refunds up to 7 days before event
Eventbrite's fee is nonrefundable.
Tackling inequality is a key part of New Brunswick's post-pandemic recovery. What role can nonprofits play in building back better?
About this event
Tackling inequality is a key part of New Brunswick's post-pandemic recovery. What role can (and should) nonprofits play in building back better?
COVID-19 has spotlighted society's inequities, with its worn health and social services, systemic racism, and political polarization, resulting in making some Canadians more vulnerable to the pandemic than others.
Particularly for underrepresented, marginalized and racialized populations, who are experiencing a disproportionately higher impact, the pandemic has exacerbated problems of inequality, racial injustice, isolation, frustration, and stagnation. As a result, we're witnessing a growing sentiment that if we want to live in a better, healthier, more just and more fair world, we are going to have to reject the "old normal" and change.
Today's problems need more than yesterday's solutions.
In the nonprofit sector, we're seeing a growing movement for us to step up for the sake of the communities we serve and tackle issues relating to gender inequality, lack of diverse employee representation, and the dismantling of power and privilege dynamics in philanthropy.
Join Tanya Rumble and Nicole McVan in their welcoming, insightful and safe space to learn about the importance of inclusion, diversity, equity and access by digging deeper into the intersections of philanthropy and equity, and power and privilege.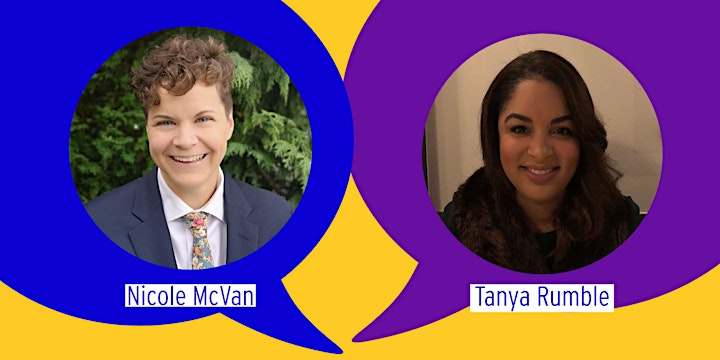 About the session facilitators
Tanya Rumble, CFRE, MFA-P™
Director of Development, Faculty of Arts, Ryerson University
Tanya Hannah Rumble is a racialized settler of multi-ethnic origins living in Tkaronto. She is a fundraising leader who has raised millions for some of Canada's largest charities including Heart and Stroke Foundation, the Canadian Cancer Society, McMaster University and now Ryerson University. As a racialized philanthropy professional Tanya is honoured to share her influence and insights with students, emerging professionals and peers in the sector. Tanya regularly writes articles on the topics of inclusion, equity, and access; and power, privilege and fundraising for industry publications and speaks to professional audiences at learning events regularly.
She graduated with an H.B.A., Political Science from McMaster University, earned a Masters Certificate at NYU in Marketing Communications and has completed numerous professional certificates including Not-For-Profit Governance Essentials (Rotman School of Management, Institute of Corporate Directors) and Truth and Reconciliation Through Right Relations (Banff Centre). Tanya has been a Certified Fundraising Executive (CFRE) since 2017, completed her Master Financial Advisor - Philanthropy (MFA-P™) in April 2020, and most recently was approved to take the certification exam for the Communication Management Professional (CMP) designation through International Association of Business Communicators (IABC).
Additionally, she is an active leadership volunteer in the philanthropy and non-profit sector: Board Director with the Association of Fundraising Professionals (AFP) Canada, and Board Committee volunteer with AFP Canada-Foundation; executive volunteer with the Canadian Association of Gift Planners; Vice-Chair of the Board and Chair of the HR Committee with FindHelp Information Services - operators of 211 Toronto; and Board Director with Native Child and Family Services of Toronto. In addition to sharing her knowledge, she is committed to lifelong learning - she is a graduate of the 2017 Association of Fundraising Professionals Inclusion and Philanthropy Fellowship, and 2010 DiverseCity Fellowship. Tanya gratefully acknowledges the traditional territories of the Mississauga and Haudenosaunee nations, whose traditional territory she lives and works with her husband and infant son.
.....................
Nicole McVan (they/them)
Nicole McVan is a strategic non-profit leader with 20 years of experience in Canada and abroad. Their experience spans many areas including corporate philanthropy, individual and community-based giving, volunteer development, national event management, and alumni giving. As Vice President Philanthropy & Marketing, Nicole has primary responsibility for the evolution from a centre of excellence in workplace giving to a centre of excellence in philanthropy. Embedding equity in all aspects of the team's work, they are responsible to build on the successes of the past and accelerate the cultivation of mission-focused, donor relationships and experiences.
As a white, able-bodied, transgender & non-binary person, Nicole uses an anti-oppressive lens in building philanthropy and marketing plans to work with and for communities. Nicole regularly speaks and writes on the topic of equity, privilege, and power dynamics for fundraising publications and at conferences and learning events.
Nicole volunteers their time in the community, including on the Board at Inside Out Film festival - an organization committed to the promotion and exhibition of film made by and about LGBTQ+ people of all ages, races and abilities. They hold a master's degree in Non-profit Marketing and Fundraising from City University of London and is currently working on a certificate in Community Engagement, Leadership and Development at Ryerson University to build their knowledge of how to work with and for communities for lasting change.
Nicole is grateful to live and work on the traditional territories of the Mississauga and Haudenosaunee nations and acknowledges their role as a treaty person to reconcile and rebuild the relationship between indigenous peoples and settlers on Turtle Island.
Learning Outcomes:
Learn what it means to work with an anti-oppression lens, acknowledging and working through questions of power and privilege.
Understand the concepts of privilege and power dynamics and learn how to spot them in relationships.
Learn how to be a better ally to Black Lives Matter, Indigenous People, People of Colour, and communities of colour and diversity.
Take action to achieve reconciliation in your work and community life.
Investigate your own biases, privileges, and disempowerment as it relates to your professional life.
Develop personal strategies to show up more authentically and effectively in your work.
Date and time
Location
Refund policy
Refunds up to 7 days before event
Eventbrite's fee is nonrefundable.
Organizer of Building back better. Bringing us together.
The Association of Fundraising Professionals (AFP) is the largest international association of fundraising professionals in the world, with more than 33,000 members in over 230 Chapters in Canada, the United States, Mexico and China.
Since 1960, AFP has inspired global change and supported efforts that generated over $1 trillion. AFP's members collectively raise over $100 billion annually, equivalent to one-third of all charitable giving in North America and millions more around the world. There are 3,500 members in 20 Chapters in Canada providing essential leadership to the country's robust charitable sector.
AFP advances philanthropy in society by enabling people and organizations to practice effective nonprofit management and ethical fundraising. Its members are committed to upholding AFP's Code of Ethical Standards, and the Donor Bill of Rights when serving their organizations, and the donors and funders who support them.
AFP's mandate is to foster the development and growth of fundraising professionals by promoting Culture of Philanthropy, and donor-centred and high ethical standards in fundraising and non-profit management through advocacy, research, education, professional development and certification programs.
AFP New Brunswick Chapter advances philanthropy by providing professional development and education in fundraising and non-profit management through workshops, webinars and special events.