Description
What Is Business Without Community?
When you make the community an essential part of your business, you can build structures that will help grow and enhance your business for years to come. At the next EOCC Inc. event Building Business Bridges, we'll discuss how to combine community and business to promote growth.
The event aims to bring together over 250 curious minds united by a passion for business and serve as a platform for sharing ideas and connecting with like-minded professionals. Attending this mixer is also an exceptional opportunity to learn from and be inspired by Edmonton's top executives, as well as meet potential business partners or clients.
Leading to and following the 40-minute panel discussion, guests will have the opportunity to connect with like-minded professionals and the businesses working to shape and grow our city.
Our panel discussion will focus on the following topics:
How to combine community and business to promote growth.

How to leverage partnerships to ensure business development.

How collaboration with customers and other organizations help develop successful products and services.

How strategic alliances help you further your contacts, in turn allowing for growth.

How engaging with community stakeholders can benefit the business.
Don't miss the opportunity to grow your business connections, listen to our insightful speakers, and enjoy complimentary tapas and drinks.
Come network with us at Muttart Conservatory on July 5, where we'll learn and build bridges together!
Notable Speakers:
Catherine Vu, Owner of Pro Active IT Management
Rebecca Smillie, Owner of Purpose Collective
Dianne Young, Founder of Young Team & Associates
Jane Flower, VP of the Alberta Motor Association
About the Speakers
Catherine Vu
In 1997 Catherine Vu co-founded Pro-Active Computer Solutions, taking a risk as a women entrepreneur in a male-dominated sector. Building on a foundation of best-in-class practices, technical expertise and responsive customer service with integrity, Pro-Active IT has grown from humble roots into a thriving, customer-centric, Computer Solutions Company with customers across Alberta who are raving fans.
Rebecca Smillie
Rebecca Smillie is a corporate social responsibility and community investment strategist who drives companies to build impact through game-changing execution. With a strong focus on impact driven programming and a talent for building robust sponsorship partnerships, Rebecca matches trackable impact with the advancement of business.
Dianne Young
Dianne Young, an experienced business strategist, has a proven track record of establishing credibility and forging strong working relationships with business leaders, employee groups, all levels of government and key community influencers. She is a Founder of Young Team & Associates, an organization that offers extensive experience in strategic and operational planning, brand management and differentiation and positioning strategies.
Jane Flower
Jane is a passionate marketer, communicator, and brand strategist. In 2013, she joined the Alberta Motor Association as the Vice President of Marketing and Communications. Her portfolio at AMA includes Brand and Corporate Reputation, Communications and Content, Creative Development, Research and Insights, Engagement and Acquisition.

For more information about the speakers, click here.
Notable Sponsors:
Title Sponsors
Lexus of Edmonton

Imagine Health


Gold Sponsors
Yorkton Group International Ltd.

Katherine Deypalubos of RBC Wealth Management

Heritage Valley Capital

EOCC Inc.

Rayacom

The Mortgage Experts of CIBC Mortgages

Law Contractor

FEMME Medical Concierge


Silver Sponsors
Hudsons Bay

Vida Floral Studio

Gem Gallerie

9 Round

Jin Media

Lux Steakhouse + Bar94

Divine Spine

Goat Locker

Hudson's on 109

Gia

BLVD

Pro-Active IT Management

Purpose Collective

Alberta Motor Association

Young Team & Associates

*Full sponsor list still developing.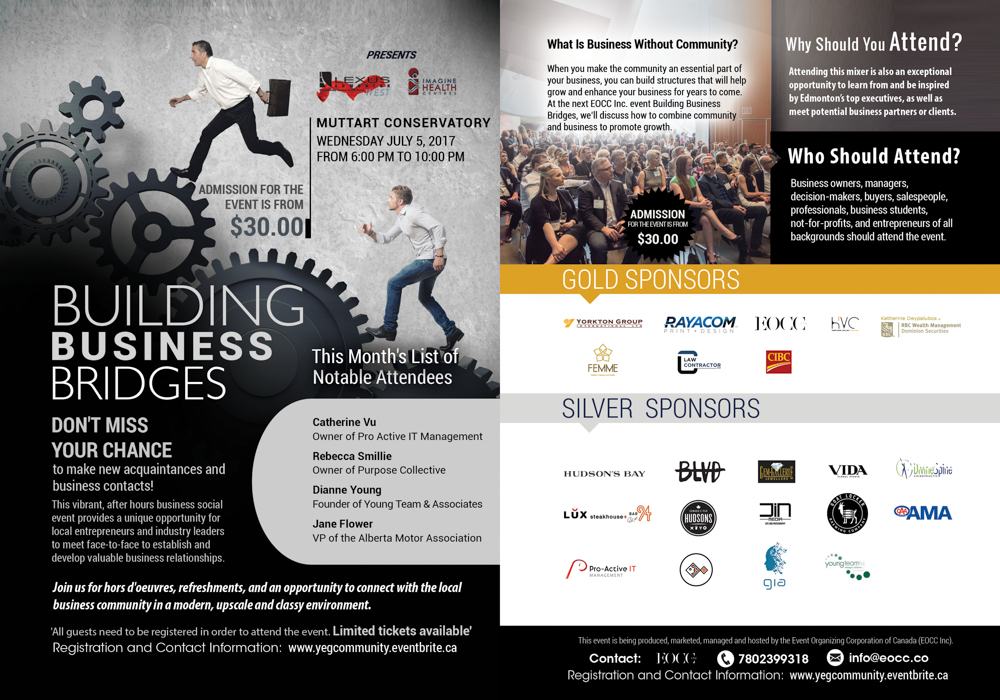 About EOCC Inc.
EOCC Inc. is more than just an events organizer – we're a movement. One that is growing exponentially, with the goal of uniting the community. This ultimate vision has been driving us to greater measures, as our company is all about innovating, and coming up with ideas for improvement and change.
Events organized and curated by EOCC Inc. focus on the issues most relevant to today's business people, stimulate new thinking, and inspire action.
See the full gallery of past events here.