Building Collective Knowledge of Indigenous communities and the Canadian State: For Newcomers and Refugees across Tkaronto
About this event
Newcomers and Refugees across Tkaronto are often kept in the dark about the harsh realities of Canada's history as a colonial entity and its present treatment towards Indigenous populations. Our forum aims to provide an opportunity to learn from Indigenous guest speakers and newcomer activists who have learned from and co-organized with Indigenous activists in so called Canada. Our aim is to understand how to be better allies and co-collaborators in our shared struggles for freedom and justice as settlers.
The event will feature a panel discussion moderated by Field, of Mohawk and Chinese descent, and featuring the following speakers:
Gwen (Innu-English)
Chemi Lhamo (Tibetan Activist)
Yolanda Brito (Carib from Venezuela)
Redsun (Dene from NWT)
Following the panel, there will be 3 breakout room workshops to continue building towards our collective knowledge. Participate in:
- An open ended conversation café to meet other participants and discuss what was learned
- A structured meeting space to discuss how to build organizing capacity between both Indigenous Communities and newcomer folks
- A "chill space" where art and resources/readings will be shared with some music playing in the background!
Time: Dec 21, 2021 06:00 PM Eastern Time (US and Canada)
Join Zoom Meeting
https://us02web.zoom.us/j/83409011600
Meeting ID: 834 0901 1600
Translation available in French and Arabic
Arabic ‪(CA) +1 647-733-1185‬ PIN: ‪920 766 168‬#
French (CA) +1 647-735-2082‬ PIN: ‪679 942 925‬#
Contact Us:
F: facebook.com/neighbourhoodpodsto
T: @pods_to
IG: neighbourhoodpodsto
www.neighbourhoodpodsto.ca
Email: neighbourhoodpodsto@gmail.com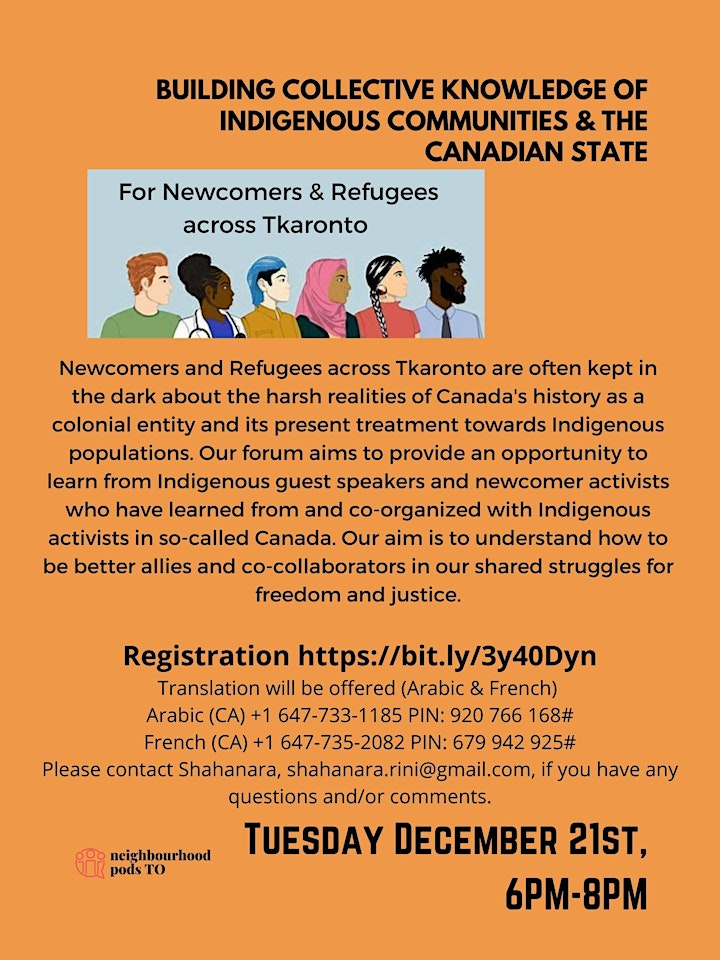 Organizer of Building Collective Knowledge of Indigenous communities and Canada