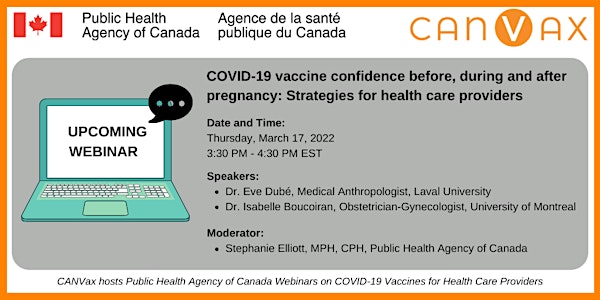 Building COVID-19 vaccine confidence before, during and after pregnancy
COVID-19 VACCINE CONFIDENCE BEFORE, DURING AND AFTER PREGNANCY: STRATEGIES FOR HEALTH CARE PROVIDERS
About this event
CANVax is collaborating with the Public Health Agency of Canada (PHAC) to present a live webinar to inform health care providers on vaccine hesitancy and strategies to build vaccine confidence in people who are pregnant, lactating or planning to become pregnant.
A question and answer period will take place at the end of this 60 minute live and moderated webinar. The webinar will be recorded and available on the CANVax website following the event.
Learning Objectives for the live webinar:
1. Discuss the challenges to vaccine confidence for individuals and families who are pregnant, considering pregnancy or lactating
2. Identify strategies for building vaccine confidence among pregnant families, new parents, and those who intend to become pregnant
Prior to attending this webinar we recommend you view the 27 minute webcast COVID-19 vaccines during pregnancy and lactation. The webcast presents the important scientific background that will enhance your understanding ahead of the live webinar which will provide strategies for having effective conversations to build vaccine confidence during pregnancy. Webcast link: https://canvax.ca/covid-19-and-vaccines-during-pregnancy-and-lactation-summary-evidence
Live webinar date: Thursday, March 17, 2022
Time: 3:30pm – 4:30pm EST
Speakers:
Dr. Ève Dubé, PhD, Medical anthropologist, Quebec National Institute of Public Health, Laval University
Dr. Isabelle Boucoiran, M.D., M. Sc., Obstetrician-gynecologist, maternofetal medicine and reproductive infectious diseases specialist, clinical Associate Professor, University of Montreal
Moderator:
Stephanie Elliott, MPH, CPH, Public Health Agency of Canada
The webinar in French will take place on:
Friday March 18, 2022
12:00 pm -1:00 pm EST
Link to register for the French presentation: https://www.eventbrite.ca/e/267880446627
NOTES:
Due to time constraints, not all questions can be answered.
This webinar will be recorded and made available on the CANVax website.
The dates and times for this webinar are subject to change.