Building Democracy Assistance 'Back Better' Post COVID-19
Global democracy is in peril. International aid is rising to meet the challenge. Join Part 1 of the U.S.-Canada Virtual Speakers Series.
About this event
COVID-19 had a profound impact on democracy in the world. It resulted in dozens of cancelled or delayed elections and gave momentum to resurgent authoritarianism and populist movements in parts of the world. It had surprisingly positive consequences as well, from accelerating digital learning for transnational democracy movements to spurring the widespread adaption of technologies that enhanced accessibility for parliamentarians and voters. This panel takes stock of these new threats and potential gains and asks "How should democracy assistance actors adapt their post-pandemic approaches accordingly?"
Featuring :
Sarah Repucci, Vice President of Research & Analysis, Freedom House
Thomas Carothers, Interim President of the Carnegie Endowment for International Peace
Jennifer Piscopo, Associate Professor, Occidental College
Christopher Sands, Director of the Wilson Center's Canada Institute
Thomas Cormier, President & CEO, The Parliamentary Centre
Francesca Binda, President, Binda Consulting International & Parliamentary Centre Associate
For more information visit the Global Democracy Dialogues homepage.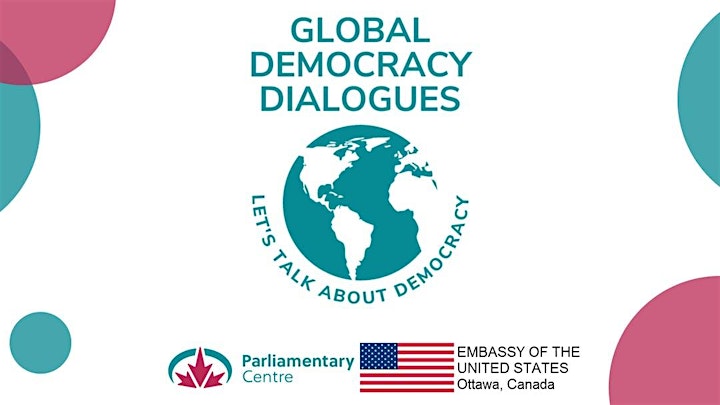 Organizer of Building Democracy Assistance 'Back Better' Post COVID-19
Canada's Global Leader for Democracy | leader canadien pour le soutien à la démocratie
Founded in 1968, the Parliamentary Centre is a non-governmental, non-partisan organizations dedicated to the strengthening of parliamentary democracy in Canada and around the world. Fondé en 1968, le Centre parlementaire est une organisation non gouvernementale et non partisanes qui se consacrent au renforcement de la démocratie parlementaire au Canada et dans le monde.