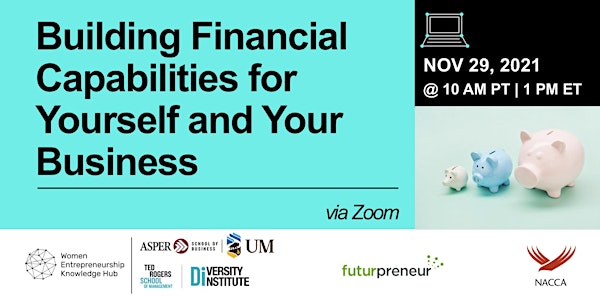 Building Financial Capabilities for Yourself and Your Business
End Financial Literacy Month on a good note! Join WEKH, NACCA, Futurpreneur Canada, and CPA Canada for an interactive information session!
About this event
November is Financial Literacy Month, and the New Year is just around the corner!…that's why WEKH, Futurpreneur , NACCA, and CPA Canada want to give you the scoop on some workshops they've been developing for 2022!
Join us on November 29th for an interactive information session on two upcoming workshop series. During this session you will hear from Magnolia Perron (NACCA) and Misko McGregor (CPA Canada) about a workshop they have co-developed, Introduction to Financial Capability. Joanne Norris (Futurpreneur Canada) will also present on a workshop Futurpreneur is developing on navigating financial lending systems. Since this session is interactive, be ready to engage in an example workshop activity and a Q&A period! Attendees will also have the chance to hear from Catherine Baxter, Founder of Chic Image Consulting, on her experience with NACCA and CPA's workshop pilot program. Catherine will also lead the group through an activity to end our session!
We look forward to seeing you at this upcoming session, and hope that you will come eager to learn and participate! If you have any questions regarding this event or its organizers, please email kara.thorvaldson@umanitoba.ca.
About NACCA
The National Aboriginal Capital Corporations Association (NACCA) is the umbrella organization for a network of 59 Aboriginal Financial Institutions (AFIs) across Canada. Over the last 30 years, the AFI network has provided nearly $ 3 billion to support economic development and the unique and specific needs of 50,000 Small and Medium Sized Enterprises (SMEs) loans in Indigenous communities all across Canada. NACCA's Board of Directors is 100% Indigenous, and all entrepreneurs supported by our AFI network are members of a First Nation, Metis, or Inuit community.
About Futurpreneur Canada
At Futurpreneur Canada, we support Indigenous and other young entrepreneurs, aged 18-39, by helping them launch or buy their own business. With up to $60,000 in financing, an expert mentor for up to two years, and access to resources, we're here to help young people bring their business dreams and plans to life.
About Catherine Baxter
Catherine Baxter is living the dream, and she's having the time of her life. She knows that your dreams are not too big; they just seem out of reach. Catherine has helped many people through their challenges, be it in business or personal matters with baby steps to reach their goals. Catherine believes that everyone should be able to find what they want to do with their lives and then pursue it relentlessly until they get there.
As the Founder of Chic Image Consulting, she is the only Indigenous Certified Image Consultant in the world of 410 consultants. Her signature course Manifest Your Mission will help you take charge of your career, so you can live a more fulfilling life!
She has an MBA from Schulich School of Business, Toronto as well as being certified by the Association of Image Consultants International, where she won the AICI Rising Star Award for 2020-2021. Catherine serves as Treasurer on 2 Boards, with one being Gignoo Transition House Inc. for Indigenous women and children. Catherine recently pitched on Pow Wow Pitch and placed 18 out of 1,642 pitches across Turtle Island.
Catherine's life, goals, and beliefs come from her 'Rising Tides Lift All Ships' creed.
About WEKH
The National Indigenous Hub for the Women Entrepreneurship Knowledge Hub (WEKH) is located at the Asper School of Business at the University of Manitoba, in Treaty One Territory, the ancestral lands of the Anishinaabe, Cree, Oji-Cree, Dakota, and Dene Peoples and on the Homeland of the Métis Nation. WEKH's traditional name is Mikwam Makwa Ikwe, Anishinaabe for Ice Bear Woman - the spirit of resiliency and strength, which can be found within and alongside Indigenous women entrepreneurs. WEKH Indigenous is working with national and regional partners to build an inclusive innovation ecosystem for Indigenous women entrepreneurs through partnerships + program development and advancing research.