Learn to be a co-conspirator, build knowledge on key advocacy terms, and unpack authentic community building to foster solidarity.
About this event
DIVERSITY is a reality, EQUITY is a choice. Curated Leadership will guide you to take action towards INCLUSION.
Join Sheliza Jamal, Curated Leadership and Heather Watts, IndigenEd in an interactive workshop on Indigenous co-conspiratorship: Building Indigenous Solidarity Through Treaty Responsibility.
In this 90-minute workshop, you will learn the key principles of Indigenous solidarity. You will learn what it means to be a co-conspirator and build knowledge on key terms and issues related to advocacy and solidarity. You will have an opportunity to reflect on your own identities, unpack biases and develop a more responsive leadership practice. You will also deepen your understanding of what it means to practice allyship and inclusive leadership as related to the TRC's Calls to Action. You will walk away with tangible strategies and next steps to begin coconspiring for change and reconciliation.
For more information on Curated Leadership visit: www.Curated-Leadership.com
Who should attend:
This workshop is open to everyone interested in learning about Indigenous solidarity, allyship, and treaty responsibility.  The content will be catered to audiences at all learning levels across all sectors.
Please note: Closed Captioning will be available for this session.
Take the Implicit Bias Test as optional pre-work for the session.
All workshop proceeds will be donated to:
Save the Evidence - Woodland Cultural Center
Save the Evidence is a campaign to raise awareness and support for the restoration of the former Mohawk Institute Residential School, and development of the building into an Interpreted Historic Site and Educational Resource. The campaign aims to save the evidence of the events that occurred at the Residential School and to ensure that the history is never forgotten. The final goal is to create a Centre that will serve as the definitive destination for information about the history of Canadian Residential Schools. The project needs to raise an additional $500,000.00 to complete the final phase of Save the Evidence.
How to attend:
A zoom link will be sent to you on the day of the workshop.
Please forward any questions to hello@curated-leadership.com
*Participants will be added to the Curated Leadership's mailing list with option to unsubscribe at any time.
Heather Watts:
Heather Watts is Mohawk & Anishinaabe from Six Nations of the Grand River Territory. Education has been a central part of her work over the past ten years, graduating from Syracuse University with a degree in Inclusive Education, Columbia University Teachers College with a degree in Literacy Coaching, and working as an elementary school teacher in New York City and in Rochester, NY. Heather has studied at the Harvard Graduate School of Education (HGSE) in the Education Policy & Management Program and graduated with her Ed.M. in 2019. During her time at HGSE, she served as an Equity & Inclusion Fellow, and co-chair of an HGSE student group, Future Indigenous Educators Resisting Colonial Education (FIERCE). Heather was also honoured with the 2019 Student Leadership Award presented by the Native American Alumni of Harvard University (NAAHU).
Heather is currently a second-year doctoral student at the Ontario Institute for Studies in Education – University of Toronto, in the Social Justice Education program. She serves as an elected member of the OISE Council and sits on the Equity Committee. She has recently been awarded a Joseph-Armand Bombardier Canada Graduate Scholarship, through The Social Sciences and Humanities Research Council (SSHRC), a highly competitive national award competition. Her work centers Reconciliation and reclamation of Indigenous ways of knowing in modern-day education systems.
Professionally, Heather is the Acting Education Manager for the Six Nations Lifelong Learning Taskforce, researching and engaging with the community around draft recommendations for a lifelong learning education system grounded in Haudenosaunee languages and culture. She also works as Training Officer in the environmental sector, developing and implementing learning modules related to the topics of Reconciliation, Identity and Privilege, as well as Indigenous worldviews of Land.
Heather has a passion for engaging in work at the intersection of curriculum and Reconciliation and is delighted to share space with you all as we deepen our knowledge of the treaties that govern Turtle Island.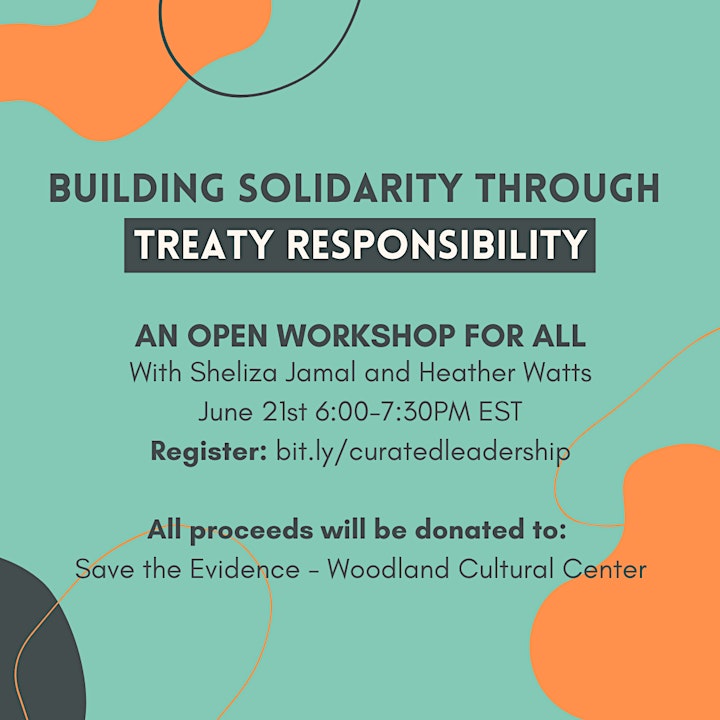 Date and time
Location
Refund policy
Organizer of Building Indigenous Solidarity Through Treaty Responsibility
Sheliza Jamal is the founder of Curated Leadership, a coaching firm that fosters partnerships with leadership teams, nonprofits, and corporations to develop their knowledge in the areas of equity and diversity to build inclusive communities. Sheliza is a graduate of the Harvard Graduate School of Education and is currently completing her PhD at OISE, University of Toronto in the Department of Social Justice Education with a research focus on anti-Black and anti-Indigenous racism in Teacher Education Programs.
As an Equity and Inclusion facilitator and Ontario certified educator, Sheliza brings over a decade of experience in designing and implementing training and development programs aimed at addressing inequitable outcomes for underserved communities. She has a background in arts education and often uses theatre-based techniques to develop embodied empathy to engage participants in dialogue about oppression. Sheliza uses a calling in approach to bring people together to listen and learn with empathy.