Description
Building the Athlete Mindset for Life


Sports is not just about training skilled athletes. It's about building better people. This event was created to inspire, educate and discuss the true value of youth sports participation.

Join us for our 1st annual event that will feature speakers who have benefited from athletics and have become leaders in society in large part due to the life lessons they have received from sport. Some of the speakers we have lined up include former Olympian, Judge Hugh Fraser, Coach Rob Hamm, Dr. Chris Raynor, Olympic Gold Medal winner, Carolyn Waldo, World Class Gymnast and CTV morning show co-host, Lianne Laing, 4 time Grey Cup winner Tom Pullen, Sports Director of CTV Ottawa, Terry Marcotte, Journalist, Ottawa Citizen, Wayne Scanlan and other high profile athletes, coaches, engaged parents and volunteers.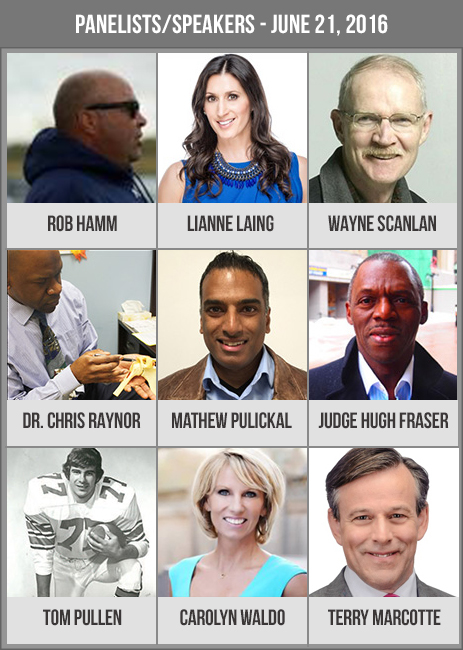 Event Start: 6:15 pm
Formal welcome / panel member introductions.
Each panel discussion will be approximately 25 minutes with 5 minutes for any questions.
Panel 1 – Sports for Life

Featuring Coach Rob Hamm, Lianne Laing, Wayne Scanlan
The benefits of exposing young athletes to multiple sports and discussing how coaching has evolved

Q&A Session – Movement for Life

Featuring Dr. Chris Raynor, Orthopedic Surgeon, Mathew Pulickal, Registered Physiotherapist
The importance of understanding movement for life

Panel 2 – Athletics Builds Better People

Featuring Judge Hugue Fraser, Tom Pullen, Carolyn Waldo, Terry Marcotte
How sports can teach athletes to be better prepared for life and become better people

Our panelsts will be asked to discuss their feelings about:
The major role that athletics plays in strengthening communities by bringing people together
The athletic mindset and the pivotal role it can play in the development of future leaders
The concept that young athletes should be diverse, consider playing multiple sports, and should be having fun
Should drive, grit, determination and handling constructive criticism be nurtured in our youth through sport?

Additional Event Details:
Location: RA Centre (directions)
Registration / cash bar: 5:00 – 6:15 pm
Complimentary pizza will be served!
Note that this event will have limited capacity, so please register early as all tickets are first come first serve (The $20 fee to attend the event will be waived for the first 30 people to register).
For more information:
http://athletesuccess.org/ottawa-event-june-21/