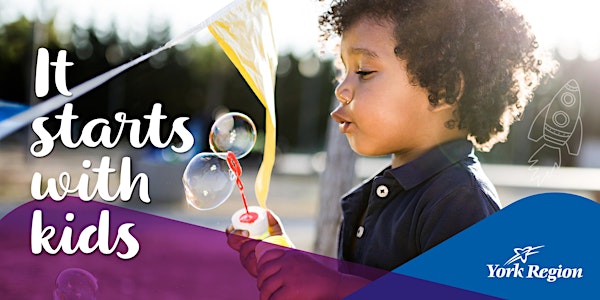 Building Your Bounce: Simple Strategies for a Resilient You - 3 Part Series
Join us for this Free virtual 3 Part Series for Early Learning and Child Care Educators who work in York Region.
About this event
Building Your Bounce: Simple Strategies for a Resilient You
3 Part Series
These sessions will take place over 3 of the following dates and times:
Session 1: Examining Our Own Risk and Protective Factors Wednesday, January 26, 2022 from 1:00 p.m. to 2:00 p.m.
Session 2: What Resilience Means to Me Wednesday, February 2, 2022 from 1:00 p.m. to 2:00 p.m.
Session 3: Introduction to the Devereux Adult Resilience Survey - 23 Questions That Can Change the Way You Look at Life Wednesday, February 9, 2022 from 1:00 p.m. to 2:00 p.m.
When you register for the January 26 session you will be automatically registered for all 3 dates in this series.
Please make sure you are available to attended all session prior to registering.
This is an interactive, virtual training session.
High levels of stress, burnout, and secondary trauma are the reality for too many human service programs and can have a negative impact on both staff and children.
Research informs us that promoting staff resilience is an important component of preventing compassion fatigue and secondary trauma that can lead to burnout. Staff working with vulnerable children and families need our support!
Programs also want to ensure that parents have the resilience they need to be able to promote resilience in their children.
This session will be facilitated online via Zoom and you will receive a link the day before the session takes place.
About the Presenter:
Patricia Couroux is the Early Childhood Community Development Centre's Coaching and Mentoring Services Coordinator. In this role, she supports early learning programs with pedagogy, indoor and outdoor space design, team building and operational support. Patricia also develops and facilitates a variety of professional learning opportunities across Ontario. Patricia is a Registered Early Childhood Educator who has worked in the field of Early Childhood Education for over twenty years, including eleven years as Child Care Supervisor. Patricia has a comprehensive knowledge of Niagara's early learning and child care community and a true passion for designing exceptional learning experiences and high quality environments for Niagara's children and for early years programs across Ontario.
Ginette Wilson has enjoyed a 30 year career in early learning and child care in North America and the United Kingdom in a variety of positions including working directly with children, managing early learning and child care teams, and consulting with not for profit and private organizations and government and social service agencies. Most recently, Ginette has worked with DSBN as a Designated Early Childhood Educator and with Rosalind Blauer as a Registered Early Childhood Educator. In the United Kingdom, Ginette worked as a Childcare Development Officer, promoting high quality child care services for children from birth to 16 and their families. She also worked as a Play Training Development Instructor; developing, delivering and coordinating a variety of workshops and network sessions. Ginette also served as a Childcare Manager in addition to holding various early childhood educator positions.
For more information about this training and other professional development and training opportunities offered by York Region, please visit our Eventbrite Page or email capacitybuilding@york.ca.
York Region Children's Services