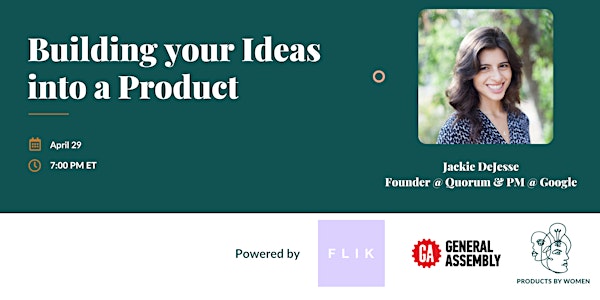 Building your Ideas into a Product (with Founder at Quorum & PM at Google)
Join us as we sit down with Jackie DeJesse, Founder of Quorum & PM at Google as she talks about Product Management and founding a company.
About this event
Quorum is building an online community that amplifies the stories of cis and trans women and anyone with lived experiences of womanhood.
Women are 51% of the US population and we have the autonomy to define our future. Our voices connect and empower us to author our own narratives and to protect our histories. This is our moment to unite as we carry the hopes and weight of our communities towards a more just, compassionate and equitable society.
Join us as we sit down with Jackie DeJesse, founder of Quorum, to hear her story and learn how we can work together to connect, empower, and amplify women's voices.
Jackie has known the value of stories since she was a child. Her family's saga has become legend and serves as the primary inspiration for Quorum. She honed her own storytelling skills as a photographer and now as a product manager, where she zealously seeks to understand users and represent them within her teams. Quorum is the natural continuation of her work to bring awareness to the challenges and triumphs that we each experience so that we can be understood and validated. Outside of her work as a product manager and founder of Quorum, you can find her mentoring future STEM leaders and cycling throughout the 5 boroughs enjoying the beauty of New York City.
Moderator: Naimeesha Murthy, Founder of Products by Women
Agenda:
- How to break into product
- Product frameworks that work to build and scale products
- Skills needed to be a PM and entrepreneur and what's common between the two
- Resources and a lot more...
---
Products by Women is a diverse global community for women in innovation and tech. By signing up for this event you'll be signed-up for our newsletter. No hard feelings but if the PBW newsletter isn't for you. Here's where to unsubscribe from this list!
By submitting your email address, you agree to receive updates about news, programs, and special events from General Assembly. Please refer to General Assembly's Terms of Service and Privacy Policy for more information.