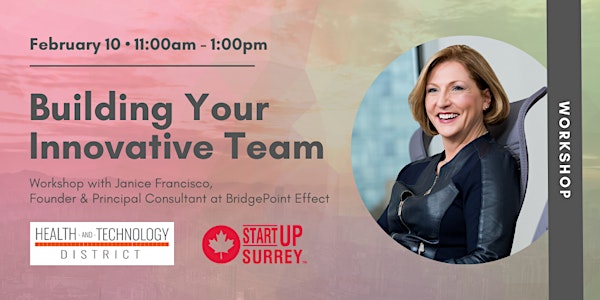 Building Your Innovative Team • Workshop with BridgePoint Effect
Location
HealthTech Innovation HUB
201-13737 96th Avenue
Surrey, British Columbia V3V 0C6
Canada
Description
Building Your Innovative Team
On February 10, the Health and Technology District and Startup Surrey welcomes internationally renowned speaker Janice Francisco (BridgePoint Effect) to join us for an interactive and experiential workshop on how to successfully build high-performing, innovative teams.
Kindly note that seats are limited • Light lunch will be served

About The Workshop
When high-performing teams come together, they immediately face two challenges:
1) The challenge of the work they'll do, and
2) The challenge of how they'll work together.
Most teams will focus on what they'll do. Few teams will focus on how they'll work together. As a result, productivity and effectiveness take a hit, and collaboration and communication becomes challenging.
Using proven methods, this workshop is designed to help you and your team work better together by identifying and leveraging the diversity of thinking preferences on your team. People think about and solve problems in measurably different ways, and these thinking preferences impact how teams are built, how leaders lead, and how everyone contributes to innovation.
Whether you join us as a team representative, or bring your entire team along, this workshop will give you the ability to identify thinking preferences on your own team, and provide tools that are demonstrated to fast-track your team's trajectory to high performance.

Join Us In This Workshop To Get:
A glimpse into how you engage in creative process and your unique thinking preferences – are you a clarifier, ideator, developer or implementer and what does this mean to how you contribute to innovation, collaborate and communicate
The code to navigating the innovation process with your team
A language and tools to guide your thinking, enhance team productivity, effectiveness and results
How You Will Benefit:
Discover the value of what you and others bring to the table
Enhance productivity, effectiveness and results when you work on your own and with others
Inspire your team with ideas, insights and tools to solve the challenge of how you'll work together
Gain access to tools and resources to learn more

About Janice Francisco (Founder, BridgePoint Effect)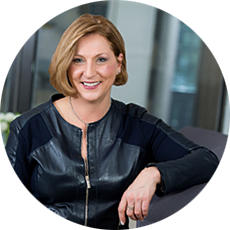 When it comes to superpowers, Janice has helped over 500 teams overcome their kryptonite to transition and transform how they operate and create value in their organizations. Focused on improving innovation outcomes, Janice brings research-based practices and a structured process to help teams collaborate and think better together.
Janice has worked with start-ups, scale-ups, SME's, large organizations, governments and non-profits. Past-Chair of the Conference Board of Canada's Council of Innovation and Commercialization, Janice continues to contribute to understanding best practices in innovation ecosystems and how to improve Canada's innovation performance.
Event Hosts