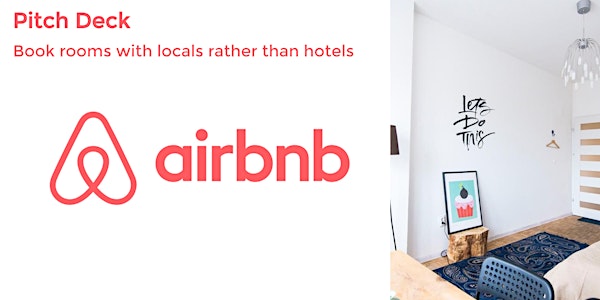 Building Your Pitch Deck - Airbnb Example
Join this practical session and learn how to build a pitch deck from start to finish. We will use Airbnb pitch deck as a success example.
About this event
This workshop is for those who have an awesome business idea, but needs to build a pitch deck to present this idea to the potential investors. We will show you the deck Airbnb used to land their first 500K capital and help you build your pitch deck.
Hacking the Digital Curve: Empowering Women Entrepreneurship Webinar series is executed by CryptoChicks and is brought to you by Northumberland CFDC and the DELIA program, with the support of FedDev Ontario.
ABOUT CRYPTOCHICKS
CryptoChicks.ca is a non-profit educational organization that originated in Ontario, Canada. It has grown to include members, students, events, and chapters in 56 countries and has educated thousands of women and youth in blockchain and other emerging technologies.
To further help close the technical-business divide, CryptoChicks has created a unique mentorship program CryptoChicksHatchery.com to help women entrepreneurs to launch grow their businesses by learning to build and test hi-tech products fast, easy, and without any coding.
ABOUT DELIA
DELIA is an automated lending platform for women-owned and women-led innovation-driven enterprises located anywhere in Southern Ontario. We are here to help innovative women entrepreneurs grow their business with automated lending up to $15,000 and access to entrepreneurial development. Find out more at delia.fund.