Event Information
Refund Policy
Contact the organizer to request a refund.
Eventbrite's fee is nonrefundable.
About this Event
On Wednesday October 21st, please join Soldiers of Creation from 6:30 pm to 9:00 pm ET (ending time approximate) for a Cocktail Basics Workshop featuring Farzam Fallah.
Soldiers of Creation is a gender-inclusive social enterprise that focuses on providing a safe space for survivors and supporters of sexual assault to connect, reclaim their voice and empower each other. We aim to introduce survivors and allies dealing with trauma caused by sexual assault to alternative methods of healing. We are thrilled to be parting up with Farzam Fallah. This is an opportunity to come to learn a new skill, meet other survivors, share your voice, and connect with members of this growing community of love.
We understand that many have experienced uncomfortable encounters in bar-type settings that may have led to sexual assault or inappropriate behaviours - these instances can deter one from re-entering a similar space. The intention of this workshop collaboration is to provide our community with an alternative to alcohol to aid in healing through a safe re-entry to social drinking, and regaining personal power and control without the triggers alcohol can bring.
The purchase of your ticket helps the SOC community thrive; 50% of the funds will go towards creating resources and programs for this community.
Location:
We will send out a Zoom link and password two days prior to the workshop
The Meeting Room will open at 6:20 pm; workshop starts at 6:30 pm
Note: this workshop is for residents of the GTA only - you MUST be able to travel to Downtown Toronto to pick-up the Cocktail Kits from Farzam.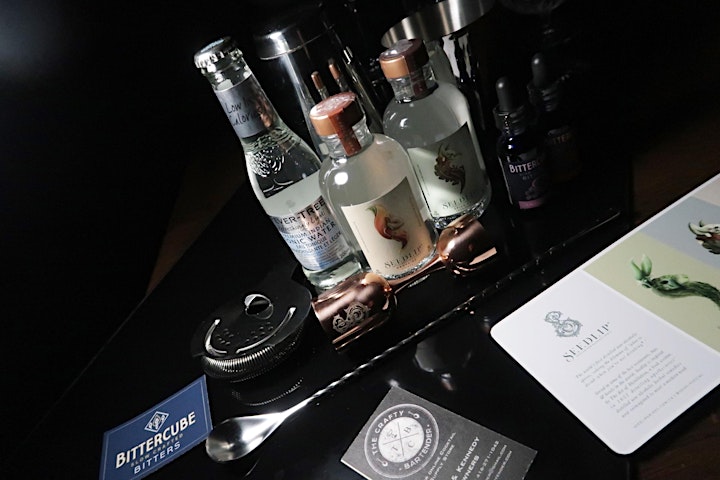 What you can expect from this class:
A crash course where you get to Build, Stir and Shake your way through the fundamentals of cocktail basics. We will be creating three drinks using two expressions of Seedlip non-alcoholic spirits, with the help from Bittercube bitters and barware from The Crafty Bartender. Come join us for a cocktail hour rich with industry insight and refined technique!
Equipment needed for this class:
Ice
3 cocktail glasses for gin and tonic, old-fashioned, martini
What is included with your purchased ticket?
2 bottles of Seedlip non-alcoholic spirits
1 bottle of Fever Tree Tonic
Bittercube bitters + cocktail ingredients
Barware from The Crafty Bartender
A recorded version of the class to rewatch if needed
Complementary therapeutic activities with our featured therapist
A new tool to integrate into your therapy repertoire
An opportunity to connect with other survivors and allies of this community
Cocktail kits (pictured above) pick-up date is Sunday October 18 from 12-5 PM, on Bathurst/Fort York. We will contact you with more details following the purchase of your ticket.
The class will be followed by an optional open group discussion led by Soldiers of Creation and their featured support person, Alana Perri (Expressive Arts Therapist).
We will be going over :
How we felt in the class
If there is any trauma we are dealing with we would like to share
How we can be better allies to each other in a safe environment
About Farzam
Farzam Fallah is a Pastry Chef, recently turned Bartender in the city of Toronto. Farzam started in the industry at a young age, doing an externship as a line cook at the age of fourteen. He quickly turned to Pastry and found his passion through the balance of science and art. Throughout his thirteen years as a Pastry Chef, Farzam has worked at some well-respected restaurants, including Terra, Ruby Watch Co., and Pizzeria Libretto. At twenty, he became the opening Pastry Chef for Richmond Station, where he grew within the community to accomplish some of his personal milestones; including speaking at Terroir Symposium, appearing in TV competitions, and being publicized in the National Post, Globe and Mail, and many more. Farzam then moved to Hong Kong to work with Black Sheep Restaurant Group, where he was the Head Pastry Chef overseeing all newly-opening restaurants' dessert programs. Currently, Farzam is finding a new love of science and art in the world of Bartending. Although his focus is now to learn how a restaurant runs as a whole, he is presently doing freelance pastry work, and has started a small leather goods and services business.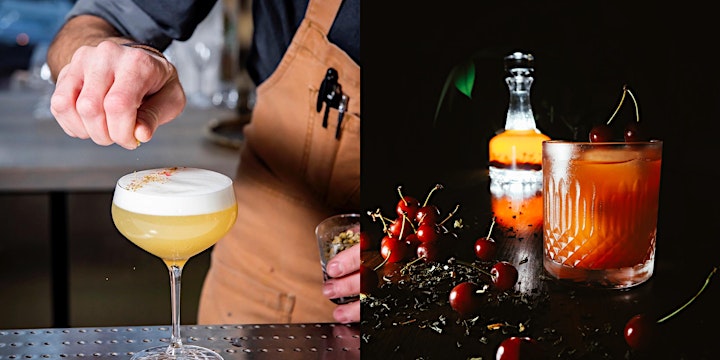 About Alana
Alana Perri is an Expressive Arts Therapist & Educator, currently residing in Toronto, ON.
With the help from a successful KickStarter project, she created APexat; her personal operation as an Expressive Arts Therapist, while she continued her education at The CREATE Institute, after graduating from Brock University with a Bachelor of Arts (Hons) in Drama in Education and Society.
She has been a featured guest during Brock University Students Union's Wellness Week program (2014-2017) – providing open Arts Therapy group sessions to students during exam season, York University's Mental Health Initiative – Love Fest 2015, the York University's Psychology Students' Association, and the Turn Around Project. She has also guest-lectured at Brock University and Fieldstone King's College School. Additionally, she has provided programming at The RAFT, alongside Lyndesfarne Theatre Projects.
Alana has provided Expressive Arts Therapy sessions and facilitated Arts and Life Skills workshops with Hospice Toronto, the AIDS Committee of Toronto (ACT), Better Living Health and Community Services, Bridgepoint Active Healthcare, and Purple Carrots Drama Studio. She has worked alongside populations experiencing life-altering situations, grief and bereavement, transition, living in palliative & hospice care, managing stress, as well as, simply coping with the struggles of everyday life.
She served 3 years as Treasurer for the Ontario Expressive Arts Therapy Association and is a professional member in good-standing.
Most recently, Alana joined the Expressive Arts facilitation team at Mohawk College as a Post-Secondary Professor; educating students on the topic of integrating Expressive Arts into treatment for those living with Post-Traumatic Stress Disorder.
Her goal is to educate & provide Expressive Arts Therapy to anyone willing to play, share, and explore.
What is Expressive Arts Therapy?
Expressive Arts Therapy is the combined use of art-forms as a therapeutic process. By integrating psychology, counselling, and creative exploration, emotional change is initiated and our mental and physical selves benefit. Your own personal creativity gives you the resources you need to undergo a profound process of self-discovery and exploration. You are the expert, as you allow your creativity to become your pathway to expression, leading to a process of understanding emotional and physical health. Together, we can find healing as we play, share, and explore. Learn more here.
Date and Time
Location
Refund Policy
Contact the organizer to request a refund.
Eventbrite's fee is nonrefundable.