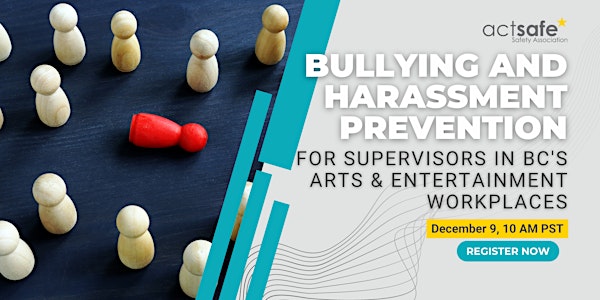 Bullying and Harassment Prevention for Supervisors
If you're a supervisor in B.C.'s arts and entertainment industries, this bullying and harassment prevention webinar is not to be missed!
About this event
Actsafe Safety Association will be joined by Grégoire Gagnon, Cultural Human Resources Council, to present the webinar Bullying and Harassment Prevention for Supervisors in BC's Arts and Entertainment Workplaces on December 9 at 10 am PST.
At the end of this webinar session, utilizing the Supervisor's Anti-Bullying and Harassment Incident Response Checklist, you will be aware of:
Employer obligations (workplace policy statement, prevent or minimize bullying and harassment, develop reporting procedures and how to deal with/investigating incidents or complaints, train workers and supervisors)
Legal obligations to prevent anti-bullying and harassment must report, and take reasonable steps (i.e., OHS policies sections 115, 116 and 117 of the Workers Compensation Act)
Describing the role and duties of a supervisor (i.e., not engage in and follow the employer's policy and procedures on bullying and harassment)
Defining with clear examples of anti-bullying & harassment behaviour (i.e., verbal aggression) and what type of behaviour is not bullying and harassment (i.e., constructive feedback)
Responding when incidents of anti-bullying & harassment occur/are reported in the workplace before engaging in an investigation (i.e., acknowledge complaint with empathy and sympathy, review existing policy/procedures, evaluate the type of complaint, set up meetings, etc.)
The webinar will have closed captioning available, and the recording will be sent to all those who register once it has been edited.
-----
About Actsafe Safety Association
Actsafe Safety Association is a not-for-profit health and safety association supporting British Columbia's motion pictures, television, live events and performing arts industries. Actsafe strives to achieve healthy and safe workplaces by providing safety training, education, and resources to employers and workers. We serve approximately 66,000 workers and 2,755 employers across British Columbia.