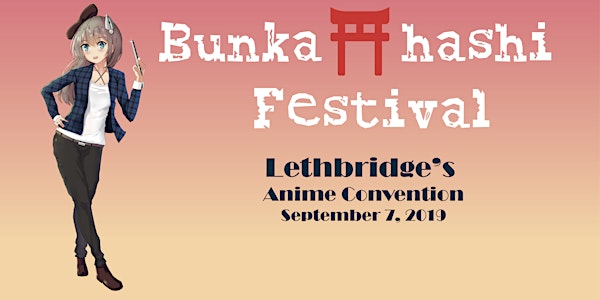 Bunka hashi Festival
Join us for a fun filled day of anime, manga, Japanese culture and more at the Bunka hashi Festival in Lethbridge, Alberta.
When and where
Location
Exhibition Park Lethbridge 3401 Parkside Drive South Lethbridge, AB T1J 4R3 Canada
About this event
Thank you for your interest in Bunka hashi Festival! Bunka 文化(boo-nn-ka) means cultural and hashi橋 (hah-sh-ee) means bridge in Japanese. Our festival aims to create a long-lasting impression that will be ingrained in our guest's minds for many moments to come. Bunka hashi Festival is a one day event that focuses on Japanese culture. This includes food, fashion, geek culture, tradition, and of course, lest we forget, anime and manga. Entertaining panels, contests, workshops, game tournaments and a marketplace are just a few of the exciting activities we have planned for this amazing day.
We are also going to have a cosplay contest so anyone that might be interested in entering please contact us through our website bunkahashi.com or email us at info@bunkahashi.com.
Due to hotel policy we ask that you do not bring in external food or drink into the venue. Water will be available in jugs and the Italian Table restaurant will be open during the event.
Early Bird Attendee Tickets with food come with SNACKS & REFRESHMENTS so don't miss out! Please let us know if you have any dietary restrictions ahead of time. Limited number of tickets available.
If you would like a seat at our Maid Cafe that is hosted by CausePlay Cafe, please order an Early Admission ticket. We will verify your purchase both on Eventbrite and at the door before you receive access to the Maid Cafe. Seats are limited and will be based on a first come first serve basis. Please note there will be an additional charge for the Maid Cafe as a portion will go towards their charity of choice. Access to purchase a Maid Cafe ticket is now available.
We are also going to be giving away a big prize at the event. You must also be present at the time of the draw to win. We can't wait to see you there!