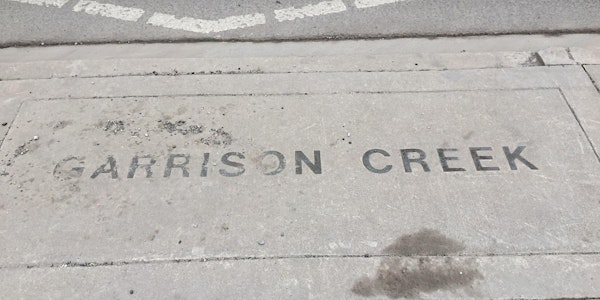 Buried Toronto: Garrison Creek | 6Place Toronto | Walk & Workshop 4
Location
Garrison Creek
Saint Clair Avenue West
Toronto, ON M6C 1C6
Canada
Description
How do cities achieve closure through acts of burial and commemoration?

By reflecting on buried and submerged layers of urban Toronto we aim to better understand how cities remain tethered to what lies beneath. We will explore how memorialization both uncovers and unravels the layered city through a walk along the now buried Garrison Creek, its proximate commemorative burial grounds of 18th c. victims of outbreaks as well as sites of the infamous Fever Sheds where they were treated. Named after the Fort York garrison near which it flowed, Garrison Creek served first as a pristine water and food source but by the end of the eighteenth century its contamination led to its burial and conversion into a sewer. Implicated in its burial were the ravaging effects of cholera and typhus outbreaks on the city's inhabitants, exacerbated by poor infrastructure and the arrival of immigrants subjected to horrific and unhygienic transatlantic passage.

Our sites are intimately linked not only through their shared memorialization but their evocations of contagion and public health. By examining the memorialization of these burial modalities, the creek and the epidemic victims, we reconstitute a narrative for the cataclysmic impact of historical infrastructural failure. Nullified as a source of contagion by its burial, Garrison Creek is a reminder of how burial may act as a form of healing and restitution when burial is conceived as cleansing, hygienic and the only way for a city to move forward. Most of all, the burial of Garrison Creek and the victims of its contamination tells a nuanced history of a quintessential city of immigrants and stands as a testament to its inhabitants valiant response in the face of tragedy.

Walk

Sat, Apr 27/19
11am - 2pm

at the Garrison Creek



Walk Hosted by Richard Longley



Itinerary:
Start: NW corner Christie and Bloor West (Christie Pits, Christie TTC subway)
South from
Christie Pits, across Bloor to Bickford Ravine, remains of Harbord Bridge to Art Eggleton Park, follow winding course of Garrison Creek around Montrose, Crawford streets to Camoes Square (Portuguese colonization and immigration on College s=St.
South to Trinity Bellwoods Park, across Queen St to Strachan Avenue, E to Stanley Park, S to Wellington West, W back to Strachan, S to Fort York and the Bentway.
E to Bathurst, S to Ireland Park, N to City Place, Victoria Square, King St W.
E along King to Toff Bell Kightbox at John St to see Irish Famine video and visit Fever Sheds site on the 4th flr.
Workshop
Sat, Apr 27/19
3pm - 5pm

at The John H. Daniels Faculty of Architecture, Landscape, and Design
1 Spadina Crescent, Toronto
Room 230