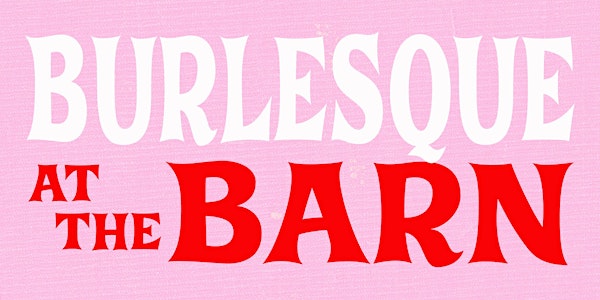 Burlesque at the Barn - Live Band Edition with Moon Sugar
Come for a simmering, scintillating night of burlesque with some of the best shimmy shakers and burlesque artists from across Canada.
When and where
Date and time
Sat, Jul 9, 2022 6:30 PM - 9:00 PM EDT
Location
The Hayloft Dancehall 344 Salmon Pt. Rd Cherry Valley, ON K0K 1P0 Canada
About this event
Come for a simmering, scintillating night of burlesque with some of the best shimmy shakers and burlesque artists from across Canada.
Our early shows have a mix of seating and standing room with over 60 seats available at each show. Seating is available on a first come first serve basis. If you're a large group, or if you require seating for health or physical ability reasons, we will always do our best to accommodate you, but we strongly recommend you arrive early to ensure a seat and get the best spot!
Our outdoor patio is open for pre-show drinks and dining from 5-7 PM - full dinner menu available from Smokin' Rednex BBQ before and during show.
Doors: 6:30 PM
Show: 7 - 8:45 PM
19+
Guests must depart the room by 9pm to allow us to prepare for our Late Night Barn Party. Guests remaining for the Barn Party can have drinks on our outdoor patio while we change the room over.
Please note: Separate tickets are required for our Late Night Barn Parties. We recommend purchasing tickets in advance, as most of our events sell out. Door sales may be available, but are not guaranteed.
Please purchase your tickets carefully - there are NO REFUNDS or exchanges on purchased tickets, unless the event is canceled due to Covid-19 or other unforeseen circumstances.
THE BUS - The Hayloft provides a complimentary bus service, operating two loops with stops in Wellington/Bloomfield/Isaiah Tubbs/Sandbanks and Picton/Cherry Valley.
JULY 9TH BUS SCHEDULE:
ROUTE 1 - Wellington / Bloomfield / Isaiah Tubbs / Sandbanks
Wellington Rotary Park – 251 Main Street - 5:00pm, 9:40pm
Bloomfield Post Office - 5:15pm, 9:55pm
Isaiah Tubbs - 5:30pm, 10:10pm
Sandbanks - 5:35pm, 10:15pm
RETURNS - 9:00pm, 11:20pm, 1:40am
ROUTE 2 - Picton / Cherry Valley
Picton Harbour Inn - 6:15pm, 8:25pm, 10:55pm
Cherry Valley Hwy. 10&18 - 6:30pm, 8:40pm, 11:10pm
RETURNS - 10:25pm, 12:45am
See Bus Stops on Google Maps here: https://www.google.com/maps/d/u/2/edit?mid=1T1iCQ3egQr62ApjXcPDMtjaAqC3LrrfP&usp=sharing
IMPORTANT INFO ABOUT THE BUS:
The bus is seated on a first come first serve basis. Unfortunately it is not possible to book or reserve seats - we recommend arriving at the bus stop early or catching the earlier buses, which are less busy. The bus won't wait for you! Our bus has a lot of ground to cover, so we try to run to as tight a schedule as possible - we recommend arriving a little early to make sure you don't miss it.
The bus does not pick up or drop off outside of the listed stops.
NO ALCOHOL IS ALLOWED ON THE BUS. Our security staff will be checking for alcohol. Any drinks brought onto the bus or The Hayloft premises will be disposed of immediately.
Bus operators and The Hayloft team reserve the right to remove anyone from the bus who is behaving inappropriately. Please treat other guests and members of our team with kindness and respect. Good vibes only please!
COVID-19 - The Hayoft Dancehall will be adhering to all local, provincial, and national Covid-19 Health and Saftey Guidelines in place at the time of this event. Check our website closer to the event for Covid-19 updates.
ABOUT THE HAYLOFT - The Hayloft Dancehall is an historic barn on the shores of Lake Ontario. The Hayloft has been a rite of passage for local residents for decades, providing great stories and fun memories of late sweaty nights on the dancefloor. The bar has been open for 49 years hosting weddings, dance parties and bands. It's a County tradition you don't want to miss! Come make some memories.
About the organizer
Welcome to the Hayloft Dancehall - a Prince Edward County institution for going on nearly 50 years!
This charmingly rustic 100 year old barn is a summertime hot spot in Prince Edward County, and must-visit for live music and entertainment. Open seasonally from May-October each year, The Hayloft throws its barn doors open every weekend to a fantastic lineup of local, national, and international artists, for a drink-sloshing, boot-stomping good time.