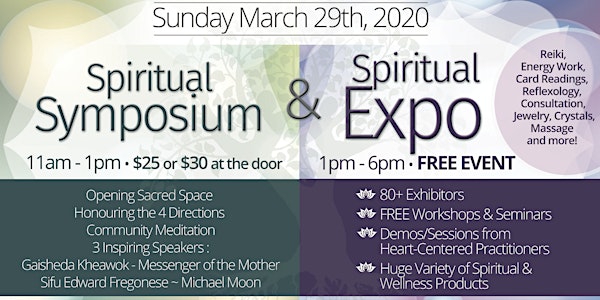 Burlington Spiritual Symposium & Expo 2020
When and where
Location
Holiday Inn Burlington Hotel & Conference Centre 3063 South Service Road Burlington, ON L7N 3E9 Canada
Description
Welcome to the 2020 Burlington Spiritual Symposium & Expo
Wholistic Wellness Communities has been running Spiritual/Wellness expos since 2012, and to celebrate our 9th year in the Burlington community, we are getting back to our roots by hosting a gathering in the morning to start what is sure to be a beautiful day!
This event will be different than our usual Expo or Marketplace as we will be starting the day with a Spiritual Symposium from 11-1pm (more details below). From 1-6pm there will be an FREE Expo with 80+ exhibitors in addition to a Featured Speaker Series.
We hope that you will join us, on Sunday, March 29th at the Burlington Holiday Inn & Conference Centre for an amazing day of Community, Meditation, Speakers, Dozens of Exhibitors & more!
Tickets for the Symposium will be just $25 if purchased in advance (right here on Eventbrite), and $30 at the door. Entrance to the 1-6pm Expo will be FREE.
---

THE SYMPOSIUM (11am-1pm) includes:

OPENING SACRED SPACE: Carrie Chilcott (Bloodline Seer, Reiki Master & Spiritual Teacher) will begin the Symposium by honouring the 4 directions and opening Sacred Space for the day
COMMUNITY MEDITATION: Eleanor Vandenberg (Intuitive Energy Worker, Reiki Master, Coach) will guide the audience through a group meditation to bring together and unify all of our energy fields, preparing for a spectacular morning of speakers & our afternoon Expo.
3 DIVERSE SPEAKERS (Syposium Speaker's Full Descriptions & Bios available here):
1) Speaker: Michael Moon, Astrologist, Recording Artist, Photographer
Topic: "The Gift of Being on the 'Spectrum', A Blessing for Our Planet"
2) Speaker: Sifu Edward Fregonese, Medical Qigong Practitioner, Tai Chi/Qigong Instructor, Reiki Master, Certified Life Coach and Zazen Meditation Facilitator
Topic: "Energy Medicine and Self-Healing"
3) Speaker: Gaisheda Kheawok - Messenger of the Mother, Tribal Peace Elder, a Tribal Psychotherapist, Tribal Astrologer, Medicine Person and Shamanic Priestess
Topic: "The Rainbow Bridge Prophecy"
All of the above is included with your ticket price ~ Limited seats available so buy your tickets today!!!
---
THE SPIRITUAL EXHIBITOR EXPO (1pm-6pm) includes:
• Admission to the afternoon Expo will be FREE for attendees
• Approximately 80+ exhibitors offering services & merchandise specific to Spirituality + Wellness.
• This could include (but not be limited to) modalities such as: Reiki, Energy Workers, Astrology, Yoga, Meditation, Crystals/Gemstones, Spiritual Psychotherapy, Sound Healing, Garments/Clothing, Herbalism, Ayurvedic Medicine, Mindfulness & more!
• The Spiritual Expo will also feature FREE workshops offered throughout the day in addition to the dozens of exhibitors for the public to enjoy.
Note: Limited exhibitor positions still available - send us an email to info@wholisticwellnesscommunities.com for more information (please include info about your own practice) We look forward to seeing you there and to share in this Day of UNITY, COMMUNITY, and LOVE!!!
Your Wholistic Wellness Communities Team