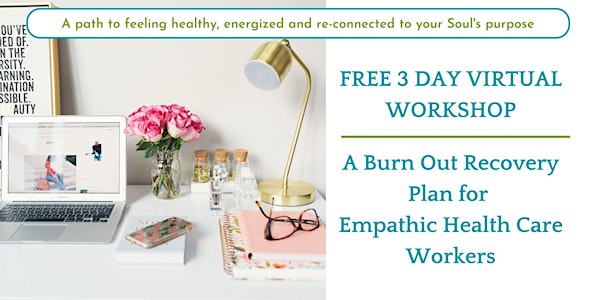 Burn Out Recovery Workshop for Empathic Health Care Workers - Abbotsford
I help empathic health care workers recover from burn out so you can feel healthy, energized and re-connected to your Soul's purpose.
When and where
Location
Abbotsford Virtual Via Zoom Abbotsford, BC V2T Canada
About this event
Are you a Health Care Worker who has been giving so much to others your own health has taken a back seat?
Do you also relate to being an Emapth? - Someone who deeply feels everyone else's pain as if it's your own?
If so, you may relate to the following:
you struggle to get out of bed in the morning and leave work feeling low.
you are deeply unhappy despite having a life that looks great on paper.
you avoid talking about your struggles because no one understands.
and the worst - despite how much love you have for your patients - you are noticing waves of resentment within you.
you've considered leaving health care because the system is draining your health.
You know there has to be a better way...
You keep thinking "if I just had more will power and motivation I'd exercise more, eat better and get my mind right - I would get over this!"
But forcing a path of exercising, dieting and cheering your way back to health only leaves you feeling defeated because it just isn't working.
You may be relieved to know that lack of motivation and will power is NOT your problem!
As an empath - it can be difficult to pin point exactly where your lack of energy is coming from, which makes it that much harder to find a solution.
The real problem is you are frozen and stuck in a repeating pattern of not having your energetic needs met.
Reaching out for help is difficult because most people do not understand your sensitivity, so the advice they give leaves you feeling like a failure in your efforts to feel better.
It can be lonely!
Empaths are a special kind of people and you need a special kind of support!
Are you ready to:
receive the guidance and support you've been missing
start feeling like YOU again
and
get back to enjoying what you came here to do - help others and make this world a better place?
If so, you're in the right spot. My super power is holding a truly compassionate, judgement-free zone for you to dive deep into yourself and bring to light what is really going on.
In this workshop we'll cover:
why lack of motivation isn't your real problem
the difference between fatigue and depletion
the first step you need to take to connect to your inner wisdom
the 4 different areas you may be stuck
how to create a burn out recovery plan you can implement right away that will set you up for success on your health & healing journey
And you'll get to do this alongside other heart centred health care workers who know exactly what you are going through because they are going through it too.
This is the thing - we need community to heal. We aren't supposed to be struggling on our own. You need to be around others to lift you up when the overwhelm of what you are dealing with makes you want to check out.
And that is why I've designed this workshop to meet you where you are at, so you can leave feeling nourished and empowered because you'll know now what you need to do.
We will meet for one hour each day on Wednesday, Thursday AND Friday; starting at the same time each day. You will receive additional information after registering.
I should mention - this is not your typical cookie cutter health program! There is no 10 step plan for your success. You are too unique for that. This is a process you will be guided through to identify your personal needs and path forward.
The good news is - health is your natural state. And when you heal the root cause of your depletion, you no longer have to force yourself to exercise, eat better or take care of yourself. All of the blocks that were draining your energy fall away and everything that seemed so hard to do before starts to come without resistance. How beautiful is that?
If you are in - come ready to participate! But don't worry, you won't have to work too hard - I know you are tired. Grab a pen, journal, your favourite drink and cuddle up for three days of mindfulness, self reflection, compassion and connection.
Recordings will be available for those who are not able to attend live.
I can't wait to see you there!