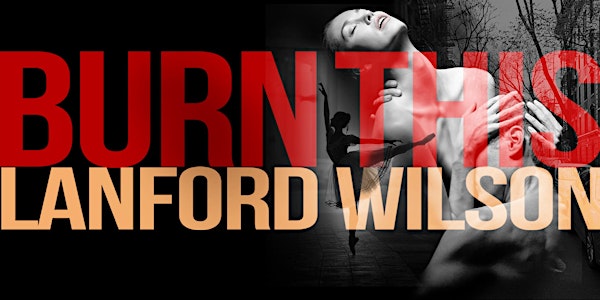 BURN THIS __________ by Lanford Wilson ______ July 19 to July 30
Location
Robbie's Loft
190 McCaul Street
Toronto, ON M5T1W5
Canada
Description
GRACEMOON ARTS presents BURN THIS by Lanford Wilson
The dance between art and betrayal.
From the LS&CO acting ensemble who brought you the recent critically acclaimed KOFFLER CENTRE OF THE ARTS production of BAD JEWS by Joshua Harmon, comes Lanford Wilson's masterpiece, BURN THIS. What happens after the tragic death of a talented dancer and brother? Amid the art and bohemia of Warhol's 1980's lower east side Manhattan, Anna and Pale face their shared loss and collide impossibly into a doomed affair. An emotionally and sexually charged comedic drama that explores "free expression of the individual spirit, no matter how non-conformist or even prodigal that spirit may seem to be." -The New York Times.
Gracemoon Arts is the new theatre and film production arm of Lonsdale Smith & Company Acting Studios. Our purpose is to create living, visceral, true, human art.
RUNS JULY 19 - 30
ALL SHOWS 8PM, NO SHOW JULY 24
PREVIEWS July 19, July 20
OPENING NIGHT July 21 with GALA LAUNCH of GRACEMOON ARTS beginning at 6pm. To purchase opening night tickets, please visit our OPENING NIGHT EVENT PAGE.
Runtime 2.5 hours including intermission. Talkbacks with guest celebrities following each performance.
Wheelchair accessible. No latecomers.
Designed, curated, acted, and crewed by the
Lonsdale Smith & Company Ensemble for Gracemoon Arts.
Starring
ELYSE LEVESQUE
BEN LEWIS
RUSSELL SAMS
MARK STABLEIN
Directed by Michèle Lonsdale•Smith
---------------------------------------------------------------------------
OPENING NIGHT GALA JULY 21: An experiential evening of theatre and visual art to celebrate the launch of GRACEMOON ARTS over drinks, food, jazz, and a gallery of international art featuring paintings by Anne Maizia and photography by Mark Stablein beginning at 6pm and transitioning into the opening night of BURN THIS at 8:30pm, followed by a talkback with actor and LS&CO studio member JR Bourne (Teen Wolf, Somewhere Between). Opening night tickets available HERE.
All artwork in the gallery will be for sale throughout the entire run of the production experienced at Robbie's Loft.
BURN THIS is presented by special arrangement with Dramatists Play Service, Inc., New York
If you would like to make a donation to Gracemoon Arts, click here to get more information about our exciting new PATRON SUPPORT "MOONPHASES" PROGRAM that offers exclusive VIP benefits and events to benefactors.
Visit burnthis.ca for more information, and please feel free to contact us at gracemoonarts@gmail.com.