Description
A celebration of craft beer, delicious food, and charity! Join the excitement of finding a new favorite among the many local craft beers, sample tasty food, while supporting Burnaby Community Services.
We are happy to bring the excitement back and host the 2nd Annual Burnaby Beer Fest on Saturday, November 12th, 2016 at Spacekraft. We will be hosting 3 Tasting Sessions from 2:30pm to 9:30pm. Proceeds from this event will support the various outreach programs and services of Burnaby Community Services, including the Burnaby Christmas Bureau. We operate programs and services year round to support low income families, individuals and seniors experiencing isolation.
Last year's Burnaby Beer Fest was a SOLD OUT success! Featuring more than 30 delicious beers, tasty appetizers and live entertainment, make sure not to miss this year's event!
Check out what's being poured at our event here.
Check out last year's Event Video on Youtube!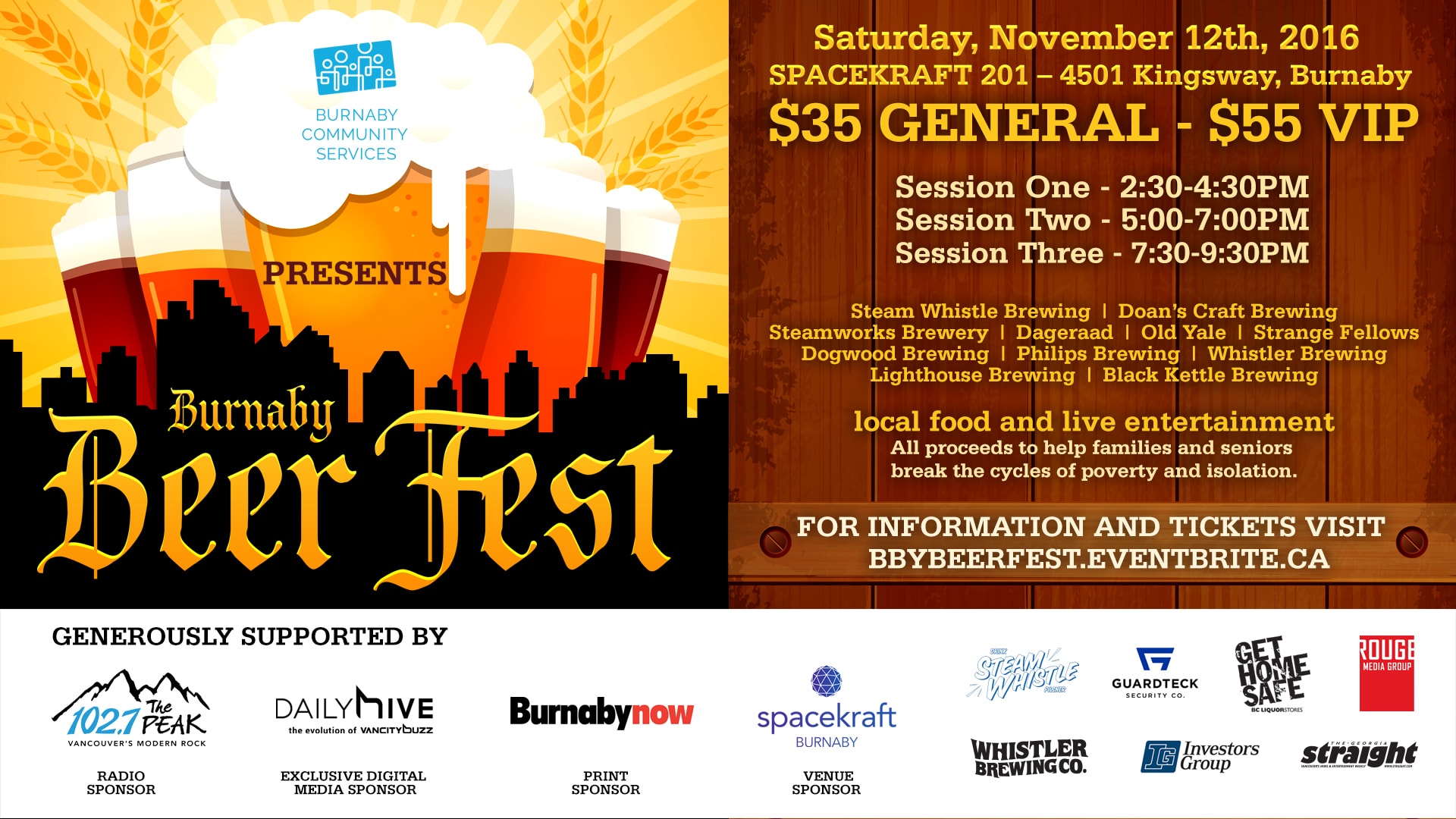 Participating Breweries: Steam Whistle Brewing, Whistler Brewing Company, Dageraad*, Doan's Craft, Dogwood Brewery, Steamworks, Strange Fellows Brewery, Lighthouse Brewing Company, and Phillips Brewery.
*Please note that Dageraad will only be attendance for the Happy Hour and Evening Session.
Performers:
Afternoon Session 2:30-4:30pm : Karla Sax
Happy Hour 5:00-7:00pm: Freedom 95
Evening Session 7:30-9:30pm : The Sean Michael Trio
Each tasting session will be a duration of (2) two hours. There will be a last call at 5 minutes Thank you for your understanding.
GENERAL ADMISSION
Choose from our three tasting sessions for beer, appetizers, and live music! Includes 3 beer samples. Additional tickets will be sold at the event!
VIP TASTING
This year, enjoy 5 beer samples, and a Johnnie Walker Food Pairing and Educational Tasting with this VIP ticket. VIP tastings will occur within each of the main tasting sessions. We strongly recommend you arrive at least 10 minutes before the tasting.
PLEASE NOTE TICKETS WILL BE AVAILABLE FOR PURCHASE AT THE DOOR.
Become a Sponsor: Click here!

Plan your trip to Burnaby Beer Fest. Please enjoy responsibly, don't drink and drive.
Burnaby Beer Fest recommends you travel via Translink and or taxi when coming to visit the festival. Located less than a 10 minute walk from Metrotown, our venue is easily accessible by bus or skytrain.
This year, we are proud to partner with BC Liquor's Get Home Safe Program and provide a transit tickets to attendees. Limited Quantities Available.
19+ Must have valid ID
Call us for more info at 604.292.3903