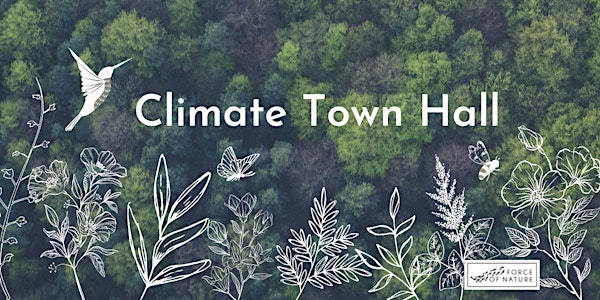 Burnaby By-Election Climate Town Hall
Join Force of Nature for a virtual town hall discussion with Burnaby by-election candidates, focusing on the climate emergency.
About this event
Force of Nature is delighted to be hosting a Burnaby by-election Climate Town Hall in collaboration with other organizations. The event is to aid Burnaby voters in determining their choice before the Burnaby by-election occurring on Saturday, June 26th, 2021.
The town hall will cover topics such as the City of Burnaby's Climate Action Framework, public transportation, the Trans Mountain pipeline, affordable and sustainable housing, and retrofits.  
Event Details
When: 6:00pm to 8:00pm Tuesday, June 22nd, 2021
Where: Virtual Town Hall hosted on Zoom
A recording will be available immediately after the event on Force of Nature's Facebook page.
Confirmed candidates: Alison Gu and Baljinder Narang from the Burnaby Citizens Association, Mehreen Chaudry and Teresa Rossiello from the Burnaby Green Party, as well as independents Gulam Firdos, Claire Preston, Lee Rankin, Scott Van Denham and Mike Hillman.
Participating Organizations: Climate Convergence, Burnaby HUB, SFU Political Science Student Union (PSSU), SFU 350, BC ACORN, and UNITE HERE! Local 40.
Force of Nature is a 100% volunteer-led grassroots environmental organization committed to climate action within Metro Vancouver