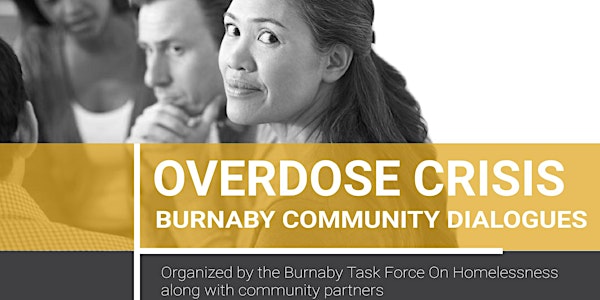 Burnaby Community Dialogues on Opiode use and the Overdose Crisis
When and where
Location
Various locations in Burnaby Burnaby, BC Canada
Description
The Burnaby Taskforce on Homelessness and other community members welcomes you to an open and inclusive time for dialogue and conversation on the overdose crisis in the municipality of Burnaby.
Sign up ASAP since seating is limited. There will be FREE food and drink. Child-minding will also be provided. Come and join the conversation regarding the overdose crisis and discuss how our community can address the stigma and isolation that contributes to this tragedy.
Naxolone training will be offered.
Translations available in Arabic, Farsi, Chinese, Spanish and Tigrinya - based on location and need.
Locations:
September 26, 2018 - Brentwood Community Resource Center - 2055 Rosser St.
October 16, 2018 - Edomonds Community School - 7651 18th Ave
October 27, 2018 - Burnaby Neighbourhood House Community Hall - 5024 Rumble St.
November 8, 2018 - Burnaby Mountain Secondary School - 800 East Lake Drive
*IMPORTANT* PLEASE READ
Counsellors will be on site to provide support to anyone who may need it, as some of the topics discussed at this event may be difficult for individuals who know someone with a substance use disorder.
If you, or someone you know, has recently lost a loved one to an overdose, you may wish to engage in self-care before, during, and after the event. Prior to attending, it may be helpful to check in with yourself: Am I feeling emotionally ready to discuss the impact of overdoses? Do I have someone that I can bring with me for support? What signs does my body give me when I am feeling emotionally overwhelmed?
Asking yourself these questions will allow you to determine whether this event is appropriate for you, and to prepare yourself to handle any difficult emotions that may arise.
Fraser Health now has a 24/7 Crisis Line for support and an "access point" to provide trained aid and resources to callers. Call 604-951-8855 or toll free at 1-877-820-7444.
FAQs
Are there going to be additional languages offered at the event?
Yes, please indicate what your preferred language is by calling 604 200 0712 or emailing info.burnabyhomeless@gmail.com, separate language tables will be provided based on the number of requests made.
How can I contact the organizer with any questions?
email info.burnabyhomeless@gmail.com
call 604 200 0712
Do I have to bring my printed ticket to the event?
You can bring your ticket electronically or as a printed copy.